Why Bernie Sanders Thinks He Can Beat Hillary Clinton
The senator from Vermont doesn't expect to outspend the former secretary of state.
By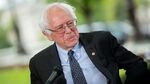 Bernie Sanders acknowledges he won't outspend Hillary Clinton, but that doesn't mean he can't beat her. 
Appearing on CBS's Face the Nation, the Democratic nomination seeker, a self-described independent socialist senator from Vermont was asked if he really thinks he can beat Democratic front runner. 
"The answer is yes," Sanders said. 
His confidence lies in Clinton's ties to billionaires and the dissatisfaction with income inequality throughout the country. 
"There is, in my view, massive dissatisfaction in this country today with the corporate establishment and the greed of corporate America in an incredibly unequal distribution of wealth and income, which currently exists," Sanders said.
Sanders said that unlike Clinton, he will not have a super-PAC to raise unlimited funds for his campaign. He pointed out the smaller donations that have been made to his campaign. While he doesn't expect to outspend Clinton, Sanders said that might not matter. 
"Look, we announced a week and a half ago," Sanders said. "Since that time, we have had 200,000 people go to BernieSanders.com to sign up for the campaign. We've had close to 90,000 contributions. Do you know what the average contribution was? It's about $43, 43 bucks, from middle-class working families. So I don't think we're going to outspend Hillary Clinton or Jeb Bush or anybody else, but I think we are going to raise the kinds of money that we need to run a strong and winning campaign."
In a new Bloomberg Politics/Saint Anselm New Hampshire poll, Sanders trails Clinton by 44 points in the Granite State.