Most French Want U.K. to Remain in European Union, Poll Shows
Gregory Viscusi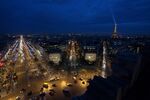 Britain's presence in the European Union is judged as positive by 58 percent of the French, while 37 percent see it as a handicap, according to a poll.
Young people are most positive about their neighbor, with 79 percent of respondents aged 18 to 34 seeing U.K. membership in the EU as an advantage, compared with 48 percent of those over 50, according to a BVA poll for i-Tele television.
Overall, 72 percent of the French have a good image of Great Britain. Still, only 20 percent say they want French leaders to be inspired by Britain's economic and social policies and 63 percent said they paid little or no attention to Britain's recent elections.
British Prime Minister David Cameron won re-election last week and has promised to renegotiate the terms of the U.K.'s membership of the EU and hold a referendum on whether to remain within the bloc by 2017.
The poll questioned 997 people over May 6 and 7. No margin of error was given.