U.S. Stocks Rally as Jobs Data Spur Optimism on Economy, Rates
Oliver Renick and Lu Wang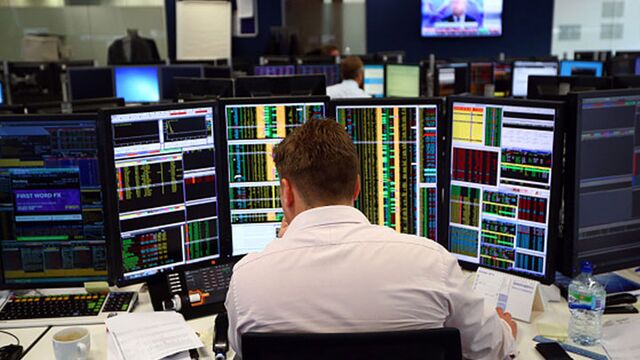 U.S. stocks rose the most since March after a rebound in hiring last month bolstered optimism that economic growth is accelerating, but not fast enough to warrant higher interest rates in June.
Raw-material shares rallied to a two-month high after a jump in construction jobs. Home Depot Inc. and Whirlpool Corp. advanced at least 1.7 percent. Lennar Corp.'s 2.2 percent climb led gains among homebuilders. Microsoft Corp. rose 2.3 percent, pacing an increase in technology stocks for a second day. Visa Inc. surged 4.3 percent amid a report that it's in talks to buy its former European subsidiary for as much as $20 billion.
The Standard & Poor's 500 Index gained 1.4 percent to 2,116.10 at 4 p.m. in New York, erasing a weekly decline and closed within two points of its record set last month. The Dow Jones Industrial Average jumped 267.05 points, or 1.5 percent, to 18,191.11. The Nasdaq Composite Index added 1.2 percent.
"This is just-right jobs for stocks," said Darrell Cronk, president of Wells Fargo Investment Institute in New York. "We hit it right where we needed to be, not too much and not too little. You want an economy growing north of 200,000 jobs, but if you get closer to 300,000 you start to have conversations about inflationary pressures and the economy heating up too fast, so this number is perfect."
The S&P 500 had slipped 1.8 percent through Wednesday from its all-time high set on April 24th, amid concerns that the economy was slowing as the Federal Reserve considers raising interest rates. About 6.6 billion shares traded hands on U.S. exchanges, roughly the average in the past three months.
Wage Growth
The 223,000 net increase in April employment followed a March gain that was the smallest since June 2012. The jobless rate fell to 5.4 percent, the lowest since May 2008. The job growth and steadily rising wages may keep the Fed on track to raise its benchmark interest rate later this year.
Wage growth remains limited, though, with average hourly earnings rising 0.1 percent after a revised 0.2 percent March gain that was weaker than initially reported. Hourly pay was up 2.2 percent last month from a year earlier.
While a futures-based measure indicates the Fed remains on track to raise rates this year, the data make a hike in June less likely.
"The jobs report is not indicating the economy is overheating and it's certainly not indicating the economic environment is further on the decline," said Michael Arone, the Boston-based chief investment strategist at State Street Global Advisors' U.S. Intermediary Business. The firm oversees $2.4 trillion. "You're feeling a big sigh of relief in the capital markets."
Earnings Expectations
Fed policy makers are monitoring labor data to help determine when to raise borrowing costs after growth slowed in the first quarter. Fed Bank of Chicago President Charles Evans said this week the central bank should wait for more evidence wages are advancing before boosting interest rates.
Companies in the S&P 500 are beating earnings estimates and analysts have reversed their predictions for a slump in corporate profits. Analysts now project a first-quarter gain of 0.2 percent, compared with a 5.6 percent drop at the start of the earnings season. They still predict declines in the second and third quarter.
Hedge-fund manager Daniel Loeb said he expects that rising corporate profits will present opportunities for stock investments even if the Fed lifts rates. "We think that equities are going to trade on prospective earnings appreciation," Loeb said Friday in a conference call discussing results at Third Point Reinsurance Ltd., the Bermuda-based reinsurer that he co-founded.
A rally in U.K. stocks today pushed European shares to their biggest gain of 2015 after a surprise election victory for the Conservatives kept David Cameron on course to return as Britain's prime minister. The Stoxx Europe 600 Index climbed 2.9 percent.
Raw Materials
The Chicago Board Options Exchange Volatility Index sank 15 percent to 12.86, its biggest drop since December. The gauge, known as the VIX, still rose for a second straight week.
All 10 of the S&P 500's main groups rose today, led by health-care, raw-material and energy companies. Seven of the groups rallied more than 1 percent.
Martin Marietta Materials Inc. climbed 2.9 percent to a more than seven-year high. The producer of ingredients for concrete helped lead the raw-materials group to a two-month high after construction companies last month added the most workers since January 2014. DuPont Co. and Dow Chemical Co. added more than 2.3 percent.
Biotechs, Boeing
Biotechnology shares were top performers in health-care, as the Nasdaq Biotechnology Index climbed for a third day, up 2.3 percent. Health-care companies in the S&P 500 advanced 1.6 percent as Biogen Inc. added 4 percent, its best gain since March, after saying it will buy back $5 billion in stock.
Boeing Co. rose 2.8 percent, the most since Feb. 20, to help lead industrials higher. Airlines rallied for a third day as Southwest Airlines Co. and Delta Air Lines Inc. increased at least 1.7 percent.
Among consumer shares, travel-related companies paced the rally. Cruise lines Royal Caribbean Cruises Ltd. and Carnival Corp. climbed more than 3.7 percent, the most in more than a month. TripAdvisor Inc. jumped 4.4 percent and Marriott International Inc. increased 2.3 percent.
Nvidia Slumps
AOL soared 10 percent, the most in 16 months, after quarterly profit beat analysts' estimates as the owner of the Huffington Post and other websites increased global advertising revenue.
Monster Beverage Corp. fell 10 percent, the biggest drop since October 2012, as first-quarter profit and sales trailed analysts' estimates.
Nvidia Corp. lost 7.4 percent, the most since August 2011, as the largest maker of chips for computer-graphics cards gave a forecast for second-quarter sales that fell short of analysts' estimates, hurt by the persistent slump in PC demand.