The Problem With Obama's Plan to Pay Doctors Based on Performance
As Medicare prepares to begin rating doctors on a scale from 0 to 100, there's confusion about how to define success.
By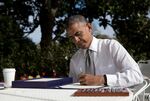 Until recently, the U.S. government and insurance companies paid doctors for volume of services provided, rewarding them for needless treatments. Economists and policymakers have long called for flipping those incentives so physicians are paid for the quality, not quantity, of care they deliver. That goal is embedded in the Affordable Care Act, which penalizes hospitals when patients get readmitted. Paying for quality is an approach that private insurers, employers, and state Medicaid plans have adopted.
In April, President Obama signed a bipartisan Medicare reform bill that mandates linking doctor pay to performance. Under the new law, Medicare, which insures 54 million elderly and disabled Americans, will begin rating doctors on a scale from 0 to 100 based on factors such as quality and efficiency. Top-scoring physicians will eventually be paid at rates above standard Medicare fees, and laggards will face penalties.
Medicare's new payment formula is set to begin in 2019. The problem is no one's agreed on standards for measuring quality or efficiency of patient care. The federal Agency for Healthcare Research and Quality lists 2,167 metrics promoted by more than 100 organizations, including how many people hospitalized for heart attacks get aspirin within 24 hours and how many overweight patients get nutrition counseling. "You've got a Tower of Babel," says David Blumenthal, president of the Commonwealth Fund, a foundation that sponsors health policy research. He oversaw an April 28 report by the National Academies' Institute of Medicine that found attempts to rate care have "unleashed a multitude of uncoordinated, inconsistent, and often duplicative measurement and reporting initiatives."
The medical profession has been wrestling with performance measurement since the 1970s, when researchers seeking to understand rising health-care costs found wild deviations in how patients with the same problems were treated depending on where they lived or what hospital they were admitted to. A 1998 Institute of Medicine report declared medical error a leading cause of death in the U.S., responsible for killing more Americans than car crashes or breast cancer.
In many areas of practice, clear-cut answers based on medical evidence are hard to find. "You can ask how many women who should have had a mammogram got a mammogram, and that's a simple question," says Margaret O'Kane, president of the National Committee for Quality Assurance, a nonprofit that developed one widely used set of quality measures. "But you can't ask how many women who had cancer got the proper treatment."
Some efforts to use metrics to improve care have backfired. James Feldman, an emergency doctor at Boston Medical Center, says that until federal guidelines changed in 2008, his hospital was judged on how often patients with pneumonia got antibiotics within four hours of arriving in the emergency room. Measuring the so-called door-to-needle time was intended to reduce pneumonia deaths. In practice, Feldman says, emergency doctors prioritized pneumonia cases over other patients, or started antibiotics without waiting for lab results. "People implement these kinds of rules because they're thought to be beneficial, and they may actually not be," he says.
It's not even clear how many metrics doctors should have to report. "What's the magic number for each specialty? I don't know," says Ann Greiner, vice president for external affairs at the National Quality Forum, which sets standards for health-care metrics. The clock is ticking for Washington to figure out how to solve the problem. "If you're going to link payment to a measure," Greiner says, "you want to make sure that that measure is reliable and valid and can improve care."
The bottom line: Obama wants doctors to be paid for providing quality care, but there's wide disagreement about how to measure it.