markets
The April Jobs Report Doesn't Really Change Anything
Here's what people are saying.
By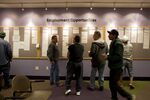 The reaction to this month's jobs report was rather muted, as few of the numbers offered much of a surprise against expectations. The number of jobs added, earnings growth, and the participation rate, were right about where people expected. Revisions to previous months were down, but largely stuck to the theme of a first quarter ruined by bad weather.
The one thing people do seem to agree on is that this report is unlikely to alter the timing of an interest rate hike by the Federal Reserve. While there had been some talk that a very strong April payrolls report could put a June interest rate increase back on the table, the vast majority of investors are pricing in a rate hike for later this year.
The S&P 500 Index gained 0.9 percent in early morning trading in New York thanks to the solid -- and unsurprising -- jobs report.
Before it's here, it's on the Bloomberg Terminal.
LEARN MORE