RBA Sees Slower Growth Lifting Unemployment as Firms Wary
Michael Heath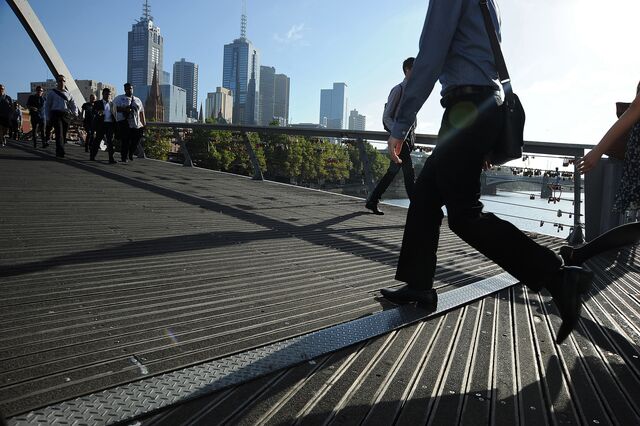 Australia's central bank lowered its growth forecast, predicted higher unemployment and said it was prepared to adjust policy if needed as business spending fails to fire and China struggles with an economic transition.
"The board will continue to assess the outlook and adjust policy as needed to foster sustainable growth in demand," the Reserve Bank of Australia said Friday in its quarterly monetary policy statement in Sydney. "Growth in the Australian economy is expected to continue at a below-average pace for a little longer than earlier anticipated."
Governor Glenn Stevens and his board cut interest rates to a fresh record of 2 percent on May 5 and said the reduction would "reinforce recent encouraging trends in household demand." That positive comment and the lack of any indication that it could cut further fostered predictions the easing cycle had ended. Today's forecasts paint a more somber picture.
The RBA cut the forecast expansion for 2015-16 by half a percentage point from its February's assessment to a range of 2 percent to 3 percent and now expects economic growth to strengthen to "an above average pace" in the 12 months through June 2017. Inflation is predicted to remain inside or slightly below the bank's target.
"Part of the reason the RBA cut this week is that they knew they would be lowering the growth and inflation forecasts," said Martin Whetton, an interest-rate strategist at Australia & New Zealand Banking Group Ltd. in Sydney. "While there was nothing explicit in today's release, the implicit bias remains that the RBA is still on an easing trajectory."
Currency Drops
The Australian currency fell after the statement, trading at 78.81 U.S. cents at 12:30 p.m. in Sydney from about 79 cents before the release.
The central bank said the unemployment rate, currently at 6.2 percent, would probably rise further to peak at 6.5 percent in the middle of next year "and remain elevated for longer." The RBA revised down its forecast for the terms of trade, or export prices relative to import prices, by 1.5 percent from February in response to lower commodity prices, and now expects them to decline by about 6 percent in 2015.
Iron ore, Australia's biggest export, sank to a 10-year low at the start of April -- in response to weaker demand from China -- before going on to cap the biggest monthly gain in almost two years as BHP Billiton Ltd. said it was deferring port works, restraining the pace of its expansion.
China Risk
"The risks to the outlook for the global economy appear roughly balanced, other than for China where risks remain tilted to the downside," the RBA said of Australia's biggest trading partner.
The central bank is trying to foster a pickup in non-mining business investment to offset tumbling commodity prices and declining spending on resource projects. It signaled the wait for this transition in growth drivers could take longer.
"Indicators of non-mining business investment intentions suggest that a significant pick-up is not in prospect over the next year or so," the central bank said. "Business liaison suggests that firms have spare capacity and are still waiting to see a more substantial improvement in demand conditions before they commit to major new investment projects."
Loose policy helped drive Sydney home prices 14.5 percent higher in April from a year earlier as buyers responded to record-low borrowing costs. That is having spillover effects.
Household Momentum
"Dwelling investment will continue to grow strongly in the near term," the RBA said. "The momentum building in household demand will, in time, provide some impetus to non-mining business investment."
Also, liquefied natural gas exports "are expected to grow strongly" and contribute 0.75 percentage point to gross domestic product growth through 2016-17, the central bank said. "However, the decline in commodity prices, particularly for iron ore, has meant that a small but increasing share of Australian production is estimated to be unprofitable."
The lack of guidance in Tuesday's rate statement prompted traders to scrap bets on further cuts and drove the local currency toward 80 U.S. cents. The RBA said the outlook for the Aussie -- which has fluctuated in response to bets on when the U.S. Federal Reserve will lift its key rate from near zero -- is an "important consideration" for forecasting the economy.
The Australian currency is also being pushed up by cash seeking yield coming out of places like Japan and Europe that are conducting quantitative easing policies.
"Further depreciation of the exchange rate seems both likely and necessary, particularly given the significant declines in commodity prices," the RBA said, reiterating comments from Tuesday. It added that "increasingly divergent monetary policies in the major economies are also likely to have an important bearing on exchange rate developments."
Before it's here, it's on the Bloomberg Terminal.
LEARN MORE