One Win, 3.8 Million Votes: What Happened to the 'British Tea Party'?
In falling short, the UK Independence Party shifted the terms of British debate.
By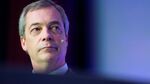 This morning, as the final ballots from the UK's general election were counted, a simple image started to burn up the Facebook meme circuit. With little adornment, it shamed the British electoral system—first past the post races, where bare pluralities are enough to win—for the failure of the United Kingdom Independence Party to break through. The single UKIP seat on the board hardly reflected the 22-year old party's surge to become Britain's third largest party, a quadrupling of its vote total.