Fashion
What's Next for Lilly Pulitzer?
Following the fashion line's much-hyped collaboration with Target, Lilly looks inland
by
When Lilly Pulitzer collaborated with Target to offer a limited-edition collection in April, women across America went bonkers. Shoppers laid siege to the discount retailer's stores, lining up before dawn in hopes of snagging dresses, bikini bottoms, or crop tops. Target's overwhelmed website crashed. The clothes sold out within hours, leaving many fans dismayed or fuming. 
Despite the rocky launch, the fashion label came out with an important boon: exposure to customers unfamiliar with the late designer's name. With the newfound interest in Lilly Pulitzer's printed dresses, tops, and swimwear, what's next for the 56-year-old brand?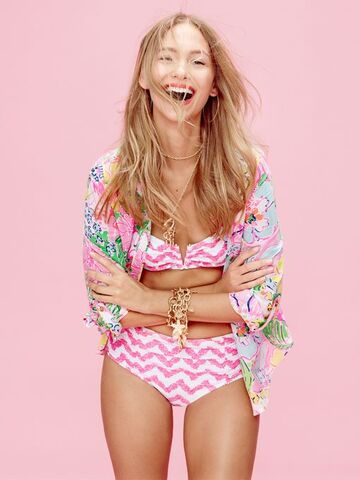 "We see unlimited opportunity in terms of where we could grow," said Michelle Kelly, president of Lilly Pulitzer. "We want to do what we do and do it well. We're a disciplined brand, even though we have a lot of fun."
Lilly Pulitzer is in the midst of its biggest year of expansion, planning to open a total of six new stores this year (more than its usual four per year), bringing its total store fleet to 34. The label has been on a roll for Oxford Industries, its Atlanta-based parent company, which also owns apparel brands Tommy Bahama and Ben Sherman. Lilly Pulitzer raked in nearly $168 million in sales last year, a 22 percent jump from 2013, and posted $32.5 million in operating income, a 24 percent gain. The bump from Target will help. Eric Beder, an analyst at Wunderlich Securities, wrote in a note to clients that the collaboration was "mission accomplished" for Lilly Pulitzer. "While the financial impact for Oxford is limited, the marketing campaign positions Lilly for more aggressive growth," he wrote.
Much of the current store fleet sits in coastal regions, prime areas for attracting preppy beachgoers. Now the company is looking for more opportunities inland. So far, it has dropped a few boutiques into Cleveland, Cincinnati, Austin, and the suburbs of Detroit. Next up is Chicago, an area Kelly says is jam-packed with Lilly Pulitzer fans according to the company's market research. Lilly Pulitzer has done business in Middle America for a long time, but it has been largely through department store partners and specialty stores, rather than its own branded shops, she said.
Lilly Pulitzer's colorful dresses hark back to 1959, when the socialite created vibrant prints to hide stains on the shift dresses she wore working a juice stand in Palm Beach, Fla. She became a prominent fashion designer, and the Lilly Pulitzer name grew to be synonymous with coastal high society. (The designer, who died in 2013, was once married to publisher Joseph Pulitzer's grandson Herbert.) Though the cities of the Midwest lack the balmy shores of Florida, they're attractive locations for Lilly Pulitzer because the label targets vacationers. It's counting on women of all ages to shop for linen beach pants and cuffs adorned with starfishes before getting on their flights to the tropics.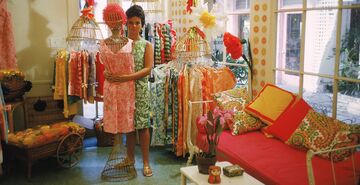 Five years ago, when Oxford acquired the brand, executives at Lilly Pulitzer decided that growth would come from touting resort style, rather than adapting to seasons or locations. No matter what, they'd stick to selling items that belong at a beach or pool party but that could often double as playful going-out clothing. "It's a resort brand," said Kelly. "And women, they certainly come to us when they're going on vacation, and they absolutely shop when they're on vacation."
Lilly Pulitzer intends to keep its focus on selling apparel and accessories, rather than branch out to other kinds of goods, such as beach gear and home furnishings. It's hard to stay the course with customers asking for Lilly Pulitzer to slap its popular prints on just about anything, said Jane Schoenborn, vice president of marketing and creative communications. However, the brand remains open to more one-time collaborations that allow for heightened creativity—the collection with Target featured beach gear, bar items, and home décor. 
Though Lilly Pulitzer executives view the Target partnership as a rousing victory, the experience wasn't all rosy for the label. Ardent Lilly Pulitzer supporters lashed out when the collection was announced, arguing that a discount retailer was too tawdry for their beloved brand. When the goods sold out, shoppers were quick to voice their anger at the lack of merchandise. A scathing Washington Post column dismissed Lilly Pulitzer's styles as being a mere uniform for preppy women who want to feel upper-class, calling the label "not fashion."
Schoenborn said that's baloney. "We absolutely believe that Lilly Pulitzer is fashion, and that she created a way of dressing that didn't exist before," she said. "We'll stand by that forever."
Before it's here, it's on the Bloomberg Terminal.
LEARN MORE