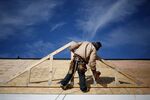 Friday's jobs report epitomized an ongoing labor market recovery that hasn't been without its caveats. While payrolls rebounded in April, a revision to March meant that the slowdown earlier this year was worse than initially thought. Hourly pay rose, though less than expected.
One clear bright spot was the figures for the housing market, which has shown choppy improvement over the past few months. The Labor Department's figures showed overall employment in construction, which includes residential, non-residential and civil projects, climbed by 45,000 in April, the most in 15 months. That gain was driven by a surge in the workers needed for home building. The combined employment in residential building construction and housing-related specialty trades posted the biggest advance since January 2006.

"The housing numbers in this report are checking off all the boxes," said Neil Dutta, head of U.S. economics at Renaissance Macro Research LLC in New York. "None of these things would be happening if the housing market weren't picking up."
Some of this also likely reflects a bounce-back from the bad weather earlier this year; overall construction jobs declined by 9,000 in March, a drop that was worse than previously reported, Friday's data showed.  So economists will need to keep a close eye on these numbers to see if the progress continues. 

The rebound from March signals "that housing weakness in Q1 was mainly weather related," economists at Barclays Plc, wrote in a note to clients. "We expect residential investment to add to growth in Q2 and see April construction payrolls as consistent with this view."
The data are the latest sign that housing will need to pick up the slack from the manufacturing industry, which is still reeling from the effects of a stronger dollar and lower oil prices. Factories added just 1,000 workers to payrolls in April after no growth in March. That compares with a gain of 45,000 just five months ago.
For more on the global economy, check out Benchmark: