technology
Simmons Pits Media Suitors Versus Wall Street as Free Agent
Scott Soshnick and Lucas Shaw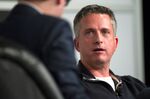 Bill Simmons' departure from ESPN sets the stage for a bidding war for the popular sports personality that may include traditional and emerging media, digital entities and even venture capitalists.
"Simmons has some interesting decisions to make now," said Don Cornwell, a partner at newly formed merger advisory firm PJT Partners who previously led such deals as the sale of IMG and the Buffalo Bills. "Clearly he could replicate what he had at ESPN with another large media company. Another interesting option is the go-it-alone strategy, where he goes direct to his followers. The capital and technology are there."
ESPN President John Skipper said Friday the Walt Disney Co. unit couldn't reach agreement with Simmons on terms for a new contract. His current deal, worth more than $5 million annually, according to the New York Times, expires in the fall.
"It was clear it was time to move on," Skipper said.
Simmons, who built his personal brand inside the biggest sports destination on TV and the Web, didn't respond to an e-mail seeking comment on ESPN or his future.
Multiple Options
Lee Berke, a sports media consultant, said the 45-year-old Simmons has options. He could align himself with another traditional outlet, such as Fox, a digital initiative, or start his own company with backing from private equity firms or venture capitalists.
"Bill offers up that magic combination of content and clicks," Berke said. "He generates a huge amount of programming, video, audio and he gets a substantial amount of traffic. I could see private equity, Yahoo, Apple, Google/YouTube being interested. What Bill offers is a rare commodity in the midst of a fragmented, multi-platform marketplace. That makes him very valuable particularly in this day and age."
Simmons is represented by WME/IMG's James Dixon, whose clients include TV personalities Stephen Colbert, Carson Daly, Simmons's friend and former boss Jimmy Kimmel and Jon Stewart.
Cornwell said Simmons's ties to WME/IMG create yet another possibility: "He could go independent but still have the benefits of a large sports organization behind him," he said.
Contentious Relationship
Dixon didn't immediately return a message left at his office seeking comment. Simmons has a particular affinity for the National Basketball Association, a league whose broadcast partners are ABC/ESPN and TNT.
"Certainly ESPN provides for a sports/basketball commentator maximum exposure and ease of access," Berke said.
David Levy, president of Turner Broadcasting System, which includes TNT, declined to comment on Simmons's departure from ESPN or his possible destinations.
The breakup after almost 15 years ends a mutually beneficial and sometimes contentious relationship between Simmons and ESPN, whose Internet site had 80.5 million unique visitors in March, most of any sports media property, according to comScore data. Bleacher Report/Turner was No. 2 at 62.7 million, followed by Yahoo Sports/NBC Sports Network.
Simmons joined ESPN as a guest columnist when he still wrote under the name The Boston Sports Guy. The Boston native thrived by embracing his partisanship, eschewing the objectivity required of most sports reporters.
Grantland Founder
His profile grew over the next several years as he continued to write columns for Page 2, a section of ESPN's website, and began recording a podcast, "The B.S. Report." He wrote a couple of best-selling books, "Now I Can Die in Peace," an ode to long-suffering Boston Red Sox fans after their team won a World Series, and "The Book of Basketball," an anthology that examined the arc of the sport's history.
In 2011, Simmons founded Grantland, a website dedicated to the intersection of sports and pop culture and named after legendary Boston sportswriter Grantland Rice. He hired a number of prominent magazine editors and writers to help.
Grantland had 6 million unique visitors in March, 30 percent of which came through ESPN.com, according to comScore.
For all off the success, Simmons never seemed completely content at ESPN, and often clashed with his bosses, including Skipper. He got in trouble for posts on Twitter, and was suspended in 2014 for his criticism of National Football League Commissioner Roger Goodell. That post included a line daring his bosses to suspend him.
'Click Bait'
Former Sports Illustrated and New York Times columnist Selena Roberts left traditional media to start Roopstigo, which creates and distributes original sports journalism and entertainment, including documentaries, animation and investigative pieces.
Roberts said her discussions with private equity and venture capitalists focused almost exclusively on traffic targets.
"I was going to have to get into click bait, and I didn't feel comfortable with it," she said. "Bill is going to have all that kind of money that is out there. But he has to pick the right money that's aligned with what his focus is. Those right people can help you build an incredible business."
Speaking prior to ESPN's announcement, Roberts said Simmons "would be crazy to leave what he has right now.
''You don't have to worry about traffic if you aren't trying to please investors. He has somebody else to worry about the bottom line. He has other people to worry about distribution. Ultimately, if he is the site, a lot of the pressure will fall on him, pressure he's never had to feel before."
Before it's here, it's on the Bloomberg Terminal.
LEARN MORE