AOL Jumps After Profit Beat Analysts' Estimates on Ad Growth
Meenal Vamburkar and Gerry Smith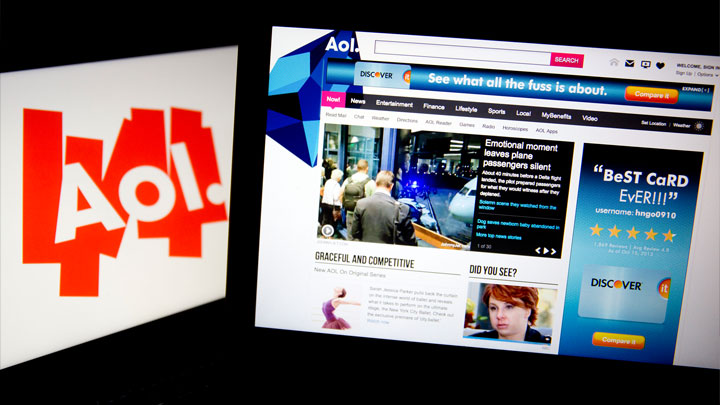 AOL Inc. rose the most in 16 months after the Web services company reported first-quarter profit that beat analysts' estimates on increased global advertising revenue.
AOL jumped 10 percent to close at $43.42 for the biggest gain since January 2014. Even after the gain, the shares are down 6 percent this year, while the Standard & Poor's 500 Index has increased 2.8 percent.
Revenue growth is accelerating thanks to automation, or using high-powered machines to buy and sell ad space on AOL websites such as Huffington Post and TechCrunch, as well as online video. Automated advertising now generates almost half of AOL's non-search global ads. Last month the company unveiled technology that helps marketers decide where to best spend their money, putting it in direct competition with two leading Web ad companies, Google Inc. and Facebook Inc.
Automation "brings more data to the advertising, which makes the ads better and more effective, and consumers like them better," Chief Executive Officer Tim Armstrong said in an interview. The company performed at the same time it restructured the business, "and that was a solid quarter," he said.
Profit excluding some items was 34 cents a share, New York-based AOL said, surpassing the 32-cent average of estimates compiled by Bloomberg. Revenue rose 7.2 percent to $625.1 million, above the $594.3 million average prediction.
Armstrong has been investing in AOL's websites to broaden their global audience. The Huffington Post, for example, has recently introduced sites in Greece and India.
The CEO cited a recent announcement with NBCUniversal as the type of deals the company will pursue in the future. NBCUniversal video clips will be available on AOL's websites and apps and the companies will co-develop original online video series.
"We're going to partner with everyone from content brands to distribution brands to wireless brands," Armstrong said. "We see ourselves as an open partnership brand."
'Starting to Scale'
Sales at AOL's platforms unit, which includes digital advertising, grew 21 percent to $279.8 million.
"The primary takeaway is that their platform is starting to scale," said James Cakmak, an analyst at Monness, Crespi, Hardt & Co. who has a buy rating on the stock. "We're in a position to see accelerating revenue and profit as we progress through the year."
Before today's gains, the shares had dropped 3.5 percent since Monday's close after Goldman Sachs Group Inc. cut its recommendation on the stock to sell, citing steepening competition in ad technology and news content. Competition with companies like Facebook and news and lifestyle outlets such as BuzzFeed and Vice Media could reduce AOL's market share in each respective business, according to Debra Schwartz, a Goldman Sachs analyst.
Net income dropped 25 percent to $7 million, or 9 cents a share, last quarter, dragged down by expenses to cut sales jobs, interest costs related to convertible notes and the impact from currency swings.