Varoufakis Says Greece Ready to Take EU Impasse Down to the Wire
Nikos Chrysoloras and Scott Hamilton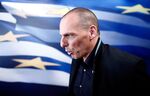 Greek Finance Minister Yanis Varoufakis said his government is prepared to go "down to the wire" in talks with its creditors as policy makers signal they're losing patience with the country after months of brinkmanship.
Varoufakis, who denies he's been sidelined by Greek Prime Minister Alexis Tsipras in the negotiations, said he expects an agreement in the next two weeks, though one is unlikely to be announced when euro-area finance chiefs meet on Monday.
Greece has less than a week to prove to the European Central Bank that it's serious about reaching an agreement with international lenders. Failure to make progress in bailout talks or repay about 745 million euros ($839 million) owed to the International Monetary Fund on May 12 may prompt the imposition of tighter liquidity rules on its banks.
"Europe works in glacial ways and eventually does the right thing after trying all alternatives," Varoufakis, 54, told BBC World on Thursday. "So we probably won't have an agreement on Monday, but certainly we're going to have an agreement in the next couple of weeks or so."
More than 100 days of talks between Europe's most-indebted state and its creditors have failed to produce an agreement on the terms attached to the country's 240 billion-euro bailout. The standoff between Greece's governing coalition and euro-area member states has led to an unprecedented flight of deposits from Greek banks and renewed concern over the country's future in the single currency.
Greek Exit
"To speak of Greek exit now is profoundly anti-European because it will begin a process of fragmentation in Europe that will actually be very detrimental to Britain, let alone Greece and Europe," said Varoufakis. "The solution is to agree on a debt sustainability analysis and a fiscal consolidation plan that makes sense, unlike the ones in the past."
Greek bonds and stocks rose on Thursday, amid increasing signs that the government in Athens is closer to an agreement that would pave the way for the disbursement of bailout loans and avert default. The Athens Stock Exchange Index gained 3 percent to 841.54 at the close of trading. Yields on 10-year notes fell 35 basis points to 10.9 percent.
Varoufakis said that while there's convergence between the two sides, the Greek government won't bow to creditors' demands for more austerity.
Insincerity Cycle
"This cycle of debt deflation and insincerity has to end," he said in the BBC interview. "We are prepared to go all the way down to the wire."
His government has repeatedly expressed confidence a deal was imminent, only to be rebuffed by European officials seeking more specific policy proposals from Greece. A meeting of euro-area finance ministers in Riga, Latvia, ended in acrimony and name-calling last month as Varoufakis's counterparts accused him of gambling with the country's future.
Varoufakis remembers it quite differently.
"I never infuriated any of my colleagues," Varoufakis told the BBC. "My relationship with colleagues is splendid. It's professional and characterized by mutual respect."
Still, since the Riga incident, Varoufakis has been pushed aside and talks with creditors have intensified. The minister denies he has taken a back seat.
"I am the chief negotiator for the Greek government," he said.
For more, read this QuickTake: Greece's Fiscal Odyssey