business
U.K. Stocks Drop Amid Election as Volatility Low Versus Europe
Inyoung Hwang and Roxana Zega
U.K. Stocks Drop Amid Election as Volatility Low Versus Europe
Inyoung Hwang and Roxana Zega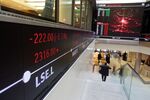 U.K. stocks fell for the second time in three days, as voters went to the polls in the general election.
The FTSE 100 Index decreased 0.7 percent to 6,886.95 at the close of trading in London, after earlier losing as much as 1.8 percent. The volume of shares changing hands was 25 percent greater than the 30-day average. The FTSE All-Share Index slipped 0.4 percent on Thursday, while Ireland's ISEQ Index jumped 0.8 percent.
While Britain votes in the most uncertain election since World War II, a measure tracking stock swings is near a six-week low relative to its euro-area peers. That contrasts with the currency market, where swings in the pound reached an almost five-year high. To Ioan Smith, managing director of trading firm KCG Europe Ltd. in London, that's partly because many equity traders prefer to wait for the results of the Thursday vote.
"A lot of people won't be taking a view before elections, and will be waiting for the move post election before trading anything," Smith said.
Polls suggest that neither Conservative Prime Minister David Cameron nor his Labour opponent Ed Miliband will come close to getting enough seats in Parliament to govern alone. Instead, they face days or even weeks of talks to try to win over enough smaller parties to command a majority.
The FTSE 100 has fallen 3.1 percent from a record last month amid a selloff in global shares. Among stocks dragging the FTSE 100 down on Thursday, GlaxoSmithKline Plc dropped 4.5 percent after signaling that a generic competitor to its top-selling drug may be a threat in the U.S. WM Morrison Supermarkets Plc slid 1.6 percent after reporting that revenue declines continued. BHP Billiton Ltd. and Glencore Plc contributed the most to a drop in a gauge of mining stocks, retreating at least 2.3 percent.
RSA Insurance Group Plc was one of the only FTSE 100 stocks rising, up 2.2 percent. The U.K.'s second-largest non-life insurer by market value said revenue for the first quarter edged higher.