politics
Trade Debate Gives Bernie Sanders a Chance to Put Hillary Clinton on the Hot Seat
He is setting the first in a number of political traps for her with next week's start of a congressional debate over trade legislation.
By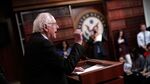 Senator Bernie Sanders is setting the first in a number of political traps for Hillary Clinton with next week's start of a congressional debate over trade legislation.
The Vermont independent challenging Clinton for the 2016 Democratic presidential nomination is dialing up pressure for her to take a stand on a 12-nation Pacific trade deal she's supported in the past.
Sanders has virtually no chance of winning the Democratic nomination unless Clinton alienates grassroots activists like labor union members, and he's pushing her to do just that. He has been needling her in media appearances and, last month, he marched with labor officials in Washington to protest the upcoming trade vote.
 "I have voted against every disastrous trade agreement coming down the pike,'' Sanders said on Wednesday, arguing that such deals have exported "good-paying jobs to low-wage countries.''
"People have got to look at Secretary Clinton's record,'' he added.
Also on Bloomberg Politics: Hillary Clinton a Free Trader? Depends on When You Ask
The Senate plans to begin debate next week on legislation granting President Barack Obama the ability to expedite trade agreements like the Pacific deal, which is unpopular among many Democratic voters. The AFL-CIO, environmental groups and other progressive organizations are making its defeat their top legislative priority. Fast-track authority requires Congress to hold an up-or-down vote on international agreements negotiated by the president, meaning there's no opportunity for amendments or filibusters.
Sanders's rhetoric on trade demonstrates how he poses a threat to Clinton even if he doesn't endanger her grip on the nomination. While labor groups fighting the trade legislation are likely to support Clinton as the eventual nominee, she could suffer from an enthusiasm gap if the labor and progressive communities aren't motivated to show up at the polls and turn out their followers.
On April 17, Sanders issued a statement calling on Clinton to oppose the deal. The same day, Clinton spokesman Nick Merrill said she believes any new trade measures must "put us in a position to protect American workers, raise wages and create more good jobs at home,'' but stopped short of indicating whether she supports or opposes the trade deal. 
Clinton has in the past expressed support for a Pacific trade deal, which pits key elements of the Democratic coalition against key Democratic leaders—among them Obama, and Clinton's husband, former President Bill Clinton. 
It's an opportunity for Sanders, who announced his long-shot 2016 candidacy last week, to show he can shape his party's primary debate, even if he's unlikely to become the nominee. 
More contrasts to come
Other areas where Sanders is in a position to draw stark contrasts with Clinton include: Her support for the Patriot Act; her vote in 2002 to authorize the war in Iraq, and her stance on the Keystone XL pipeline. As secretary of state, Clinton said she was "inclined" to approve the pipeline. Since then, much like on the trade measure, Clinton has been silent on Keystone.
On trade, Clinton has to contend not only with her own record, but that of her husband. One of the hallmark legislative successes of former President Bill Clinton's administration was the 1994 North American Free Trade Agreement that unions blame for thousands of lost U.S. manufacturing jobs.
Unions typically provide the campaign foot soldiers who knock on doors, make phone calls and help get Democratic voters to the polls. Right now, they're launching an all-out war against the trade legislation. An AFL-CIO fact sheet said its members have held 450 nationwide events, including rallies in Washington, made 100,000 phone calls and gathered 40,000 petition signatures.
The labor federation is freezing all political action committee contributions to candidates to put those funds toward a campaign to stop fast-track legislation. That includes digital ads pressuring 16 senators to oppose the deal and attacks on Democrats Ron Wyden of Oregon and Michael Bennet of Colorado, who voted for the legislation in committee. Last week, AFL-CIO President Richard Trumka delivered a speech putting elected officials on notice, without mentioning Clinton by name.
'No middle ground'
"We expect those who seek to lead our nation forward to oppose fast-track,'' Trumka said. "There is no middle ground, and the time for deliberations is drawing to a close.''
To Matt Bennett, a former White House aide to President Bill Clinton who supports trade legislation, "The ferocity with which segments of the labor community are fighting this has been surprising.'' He acknowledged it puts Hillary Clinton in a bind.
"She's torn between what she knows to be important for America's economy and our leadership in the global economy and the necessity of uniting the party behind her,'' said Bennett, now senior vice president at Third Way, a Democratic policy group.
House Speaker John Boehner is also leaning on Clinton to declare her position.
Last week, the Ohio Republican said in an interview on NBC's Meet the Press that Obama needs Clinton's help to corral hesitant Democratic senators to support the trade measure. "She can't sit on the sidelines and let the president swing in the wind here,'' he said.
Before it's here, it's on the Bloomberg Terminal.
LEARN MORE