The Dealmaker Who Helped a U.S. Hedge Fund Score Congo Oil Prize
Africa's last shadow master trades favors to make profits for everyone — including himself
by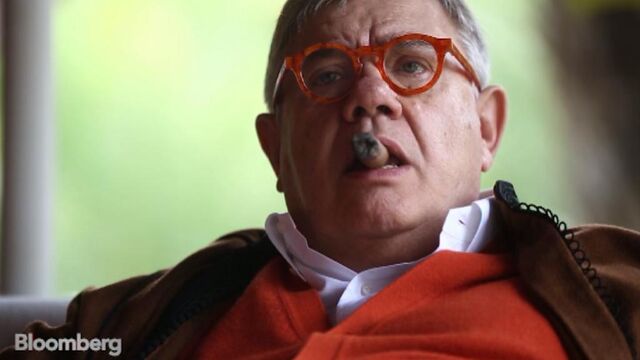 For a businessman who doesn't spend much time at his burgundy mansion in Morocco's ancient city of Marrakesh, Jean-Yves Ollivier throws quite a dinner party.
Three servants in black tuxedos silently file past in the soft light, keeping the nine French art dealers, lawyers and charity workers topped up with a fruity blend of cabernet sauvignon and merlot. The guests dine on roast rosemary lamb, Mediterranean vegetables and potato dauphinoise, on crimson plates from Istanbul. Silver bowls brim with red roses and two elephant tusks form an arch by a dining room wall. The chatter ranges from quips on French politics to exclamations at the crunchiness of the pomegranate seeds in the mousse.

Ollivier is dressed for comfort on this wet December night, wearing a woolen gray-and-white-striped djellaba, a Moroccan robe. He fills it out. Leaning back in an upholstered wooden chair, he throws out his arms and chortles at the compliments he's receiving about his recently published memoirs. The book tells how he rose from a teenage refugee fleeing Algeria to become one of Africa's canniest middlemen.
The Frenchman is happy to talk about his deals, and to say that his Marrakesh residence — and the other places he has around the world — are one benefit of his 45 years of working in Africa. He's made his career befriending the continent's leaders and finding ways for them, the companies they deal with, and himself, to all make money.
One deal he cites as epitomizing his ability to match up different interests: how he helped a venture by Och-Ziff Capital Management Group LLC, the largest publicly traded U.S. hedge-fund manager, buy a stake in an oil project being explored by Eni SpA off the coast of the Republic of Congo. He says he also advised his friend, Congolese President Denis Sassou Nguesso, whose government granted the concession in 2010. The price was about a third of its actual value then, according to McDaniel & Associates Consultants Ltd.
The U.S. Securities and Exchange Commission and the Justice Department are investigating several Och-Ziff investments in Africa with an eye to whether they violated anti-bribery laws, the company said a year ago. New York-based Och-Ziff didn't specify which investments. Spokesmen for both the Justice Department and the SEC declined to comment on their investigations into Och-Ziff.
Och-Ziff, through its external public relations firm, declined to comment. Ollivier said only that he hasn't been contacted by anyone in connection with the investigation. The Congolese government declined to comment.
Ollivier, 70, also helped represent Congo in a dispute with billionaire Paul Singer's New York hedge-fund company, Elliott Management Corp. He has been an adviser to Russian nuclear company Rosatom Corp. and Swiss oil trader Vitol Group. And he's found himself among the thousands of people on a list of those with secret accounts at the Swiss private-banking unit of HSBC Holdings Plc. He said the accounts were legal, all taxes have been paid and he's been a Swiss resident for a long time.

Ollivier says his career is built on favor-trading that he likens to methods used by Don Corleone in "The Godfather" film trilogy.
"I am not the Godfather, of course, but I employ about the same system," he says in an interview the morning after the dinner. "It starts by him helping this one and this one and this one, not asking anything. But maybe one day I will ask you something. The gain comes afterwards and for a mutually beneficial project. That's where I benefit, ultimately."
After dinner, the guests pass under pointed archways and domed ceilings and step across a zebra skin for Cuban cigars, mint tea and pralines in the lounge. Ollivier picks out a Hoyo de Monterrey. It's short and thick, his favorite kind.
"I designed it myself," Ollivier says of the house, pointing out the clear run from the front door through the atrium, lounge and across the lawn to three giant red cubes perched upon a six-step waterfall feature. "I love architecture. It is the trace of a human being on earth. Your soul remains in the house."
The interview is part of a decision Ollivier has made to fashion a public persona, he says. He wants to counter what he calls untrue suggestions in the media and books that he's a spy or an arms dealer. He's also participated in and promoted a documentary funded by South African military-equipment manufacturer Ivor Ichikowitz's foundation. It's about how he helped negotiate a prisoner swap between Angola and apartheid South Africa — then at war with each other — in 1987.
At the dinner party, he signed and handed out copies of "Ni Vu Ni Connu," French for neither seen nor known, the memoir that came out last year. On the cover, a serene Ollivier peers out from a dark background.
During the morning chat, Ollivier sits on a couch in his lounge, puffing on another cigar, resting an elbow on a table cluttered with silver and opal artifacts. He sips on a pint of what he calls an alcohol-free mojito: lime, soda, mint and lots of crushed ice. Behind him, a life-sized wooden monkey contemplates an apple. The interview later moves to his office in a stand-alone garden hut and then to a reading room, where a fire roars beneath a mantelpiece holding three leather busts.
Ollivier doesn't spend much time at the Marrakesh house, or at any one of his other residences around the world: in Paris, Zurich, Brazzaville in the Republic of Congo and on the 15th story of Marilyn Monroe's old building on Sutton Place in Manhattan's midtown. His favorite is at South Africa's Kruger safari park. He says he spends more time in the air than in any one place.
He flatly denies ever working as a spy, dealing in arms or participating in any form of corruption or bribery.
"He is the epitome of the man in the shadows, who knows everything and runs everything," said Gerard Prunier, a French academic affiliated with the Washington-based Atlantic Council and the Association for the Study of the Middle East and Africa and an author of books about Africa. "If you're a businessman, he can open all kinds of doors for you that you can't."

Ollivier's career began at the age of 17, when he was cast out by Algeria, where he was born. So were 1 million other pieds-noirs, as the French people living there were known, who fled around the time of independence in 1962. He became a courier for the pied-noir resistance, traveling between the two countries. He was caught, tortured and held in a Paris jail for five months for charges including "plotting against the authority of the state," he said in his memoirs and on his website.
Instead of completing high school when he got out of prison, he went to London to learn English. An internship arranged by a family contact there led to a job as a grain trader back in Paris. In 1969, still in his mid-20s, Ollivier shipped barley to Libya, where Muammar Qaddafi had just overthrown the government. That same year, he successfully bid for trader Grainex SA to sell wheat to China at the height of the Cultural Revolution.
Ollivier traveled to South Africa for a French chemical company in the 1980s and later sold oil to the government, breaching sanctions against the apartheid regime. In 1986, he says in his book, Jacques Chirac, shortly to become prime minister of France and later president, asked him to help negotiate the release of French hostages from Lebanon. By then, he had direct access to a number of African leaders, and companies and politicians were turning to him for help.
"What is necessary at a certain moment is that your file will be put on top of the other files and there will be an instruction to the people to look at your file favorably," Ollivier says, reaching forward and closing his fingertips together as though picking a plum.
By 2009, Ollivier was a go-between for the Congolese government and the oil venture Och-Ziff had set up. Daniel Och had created the fund manager in 1994 after 11 years at Goldman Sachs & Co., where he had most recently been co-head of U.S. equities trading. As chief executive officer and chairman of the eponymous company, he secured investments from pension funds, foundations, corporations, private banks and more to build the assets under management to $47 billion today, according to the company website.
Och-Ziff invested across the globe in various asset classes. In 2008, the fund manager set up a joint venture with South African partners to invest in resources on the continent. The resulting African Global Capital funds made investments in projects including uranium mining in Democratic Republic of Congo and a coal company in South Africa. It was African Global that secured the oil deal in the Republic of Congo, the DRC's smaller neighbor to the northwest.
Starting in 2011, Och-Ziff began receiving subpoenas from the SEC and information requests from the Justice Department in connection with an investigation into possible violations of anti-bribery laws, the company announced in a March 2014 regulatory filing. The probe related to an investment from a foreign sovereign wealth fund in Och-Ziff, as well as the hedge fund's investments in "a number of companies in Africa," it said.
Legal expenses have risen due to the investigation, Och-Ziff Chief Financial Officer Joel Frank told analysts on a May 5 earnings call, adding that the company hopes the probe will be over by the end of the year. 
By the time U.S. authorities were contacting Och-Ziff, Ollivier had a track record of working with the Republic of Congo. There, Sassou Nguesso, a 71-year-old French-trained colonel paratrooper, had come to power through a 1979 coup, just as oil production was becoming significant.
Espousing Marxist-Leninist rhetoric, he quickly began allowing Western companies to pump Congo's oil. He's ruled ever since, except for a five-year gap when he lost elections. Sassou Nguesso's Cobra rebel fighters returned him to power in 1997 in a four-month civil war.
Congo's output mushroomed to about 300,000 barrels of crude oil a day in 2010, making up about 90 percent of export revenue, according to the U.S. Energy Information Administration. This hasn't made the country's people rich. About half live on less than $1.25 per day, according to United Nations data. Almost one in 10 children dies before the age of five.
Transparency International accused Sassou Nguesso of embezzling a "substantial part" of Congo's oil income by selling crude at below market value in exchange for payments to his benefit. The Berlin-based group and a French nonprofit in 2008 filed a complaint with France's prosecutor's office. It requested legal action to get Sassou Nguesso and four other African presidents to reimburse public funds they had embezzled, according to a copy of the claim. Transparency International estimated Sassou Nguesso's fortune to be more than $1 billion.

"I know him intimately," Ollivier says, dismissing the allegations with a wave. "He doesn't care about money. He doesn't spend. Yes, he likes beautiful suits and pens. The man lives a very simple life. He's devoted to his country."
A French judge is currently investigating the claims against Sassou Nguesso and his family, William Bourdon, the lawyer who filed the complaint on behalf of Transparency International and its partner, said by phone.
Because it is an investigation and not a court case, Sassou Nguesso's side isn't required to respond. The inquiry has no chance of leading to a court hearing because embezzling public funds abroad isn't an offense in France, and French courts don't have any jurisdiction abroad, Jean-Pierre Versini-Campinchi, a Paris-based lawyer for Congo, said in an e-mailed response to questions.
Congolese Communications Minister Bienvenu Okiemy requested e-mailed questions when called on his mobile phone, but he didn't provide an e-mail address and didn't respond to 10 text messages or 20 calls. Minister of Special Economic Zones Alain Akouala Atipault didn't answer 10 calls to his mobile phone. Four requests for comment submitted on the website of Sassou Nguesso's office went unanswered.
By 2002, Ollivier was advising the National Oil Company of Congo, known by its French acronym, SNPC, on a loan of about $350 million to build energy infrastructure. Rand Merchant Bank, a South African investment bank, was a joint lead arranger and participated in the financing. Oil trader Vitol was guaranteed the product. Congo increased its crude production. And Ollivier was paid for his services, he says.
"It's the type of deal I love, where everybody wins," says Ollivier, drawing on his cigar under the mosaic ceiling in his office.
Vitol said in an e-mailed response to questions that it had a consulting agreement with "companies controlled by Mr. Ollivier from 2002 to 2004." It was related to the development of Vitol's business in Congo. Vitol said the details were confidential and declined to comment on the loan.
Ollivier introduced SNPC to Rand Merchant Bank and was involved in the initial negotiation but didn't play a "significant role in the arrangement thereafter," according to Peter Gent, the bank's project finance head at the time. Ollivier also lent SNPC chief counsel Blaise Elenga, a "long-standing personal" friend, $185,000 to build a house, according to a sworn statement he made to a Hong Kong court in an unrelated case. Ollivier says it was repaid.
Elenga asked for questions to be sent via e-mail and didn't respond to five e-mails or eight telephone calls.
The Hong Kong case arose in 2006. A unit of billionaire Singer's New York hedge-fund company, Elliott Management, was trying to recover more than $100 million in Congolese debt it owned, according to court papers. The Elliott unit was winning judicial orders allowing it to seize state assets, including oil cargoes, and it alleged in the Hong Kong files that Ollivier was helping Congo conceal these.
In his own affidavit, Ollivier denied that he'd hidden assets. In the December interview, he said he'd created a web of shell companies to conceal the owners of Congo's oil and the payments the SNPC was receiving. He also worked out a way to ensure the cargoes were paid for before they left the country, instead of the usual 60 or 90 days later, he said.
"I built that and I'm very proud of that," Ollivier says, standing up and casting an arm down for emphasis. Speaking of Elliott, he said it was "tackling people and destroying the reputation and names of the people who were close to the regime."
In the Hong Kong affidavits, he also disclosed more about his relationship with Congo and the SNPC: he said he'd known Sassou Nguesso since 1974, he rented office space to the SNPC in Paris, he acted as an SNPC oil broker and international relations consultant and he organized crude-backed loans for it. For the loans he received commissions of 0.375 percent.
Ollivier was involved "in the cross-border manipulation through which Congo's assets have been concealed and dissipated," Donald Steven Schwarzkopf, an advocate for Dechert LLP who represented the Elliott unit, said in an affidavit to the Hong Kong court.
Ollivier denied the allegations in his affidavit to the court, saying he had "not conspired in any way" to prevent the Elliott unit from recovering its debts. In an interview he called the accusations "rubbish." An Elliott spokesman declined to comment.
In the end, Congo settled out of court with Elliott. Ollivier says that was his idea. On top of the fees Ollivier made, he came out of it with a Congolese diplomatic passport, he says, an honor he's been awarded in a few African countries. They're all legal, he says.
Ollivier also says he lobbied lawmakers in the U.S. and U.K. in favor of legislation banning vulture funds, so named because they allegedly prey on poor countries. Sassou Nguesso paid Ollivier $1.3 million between March 2007 and September 2010 to lobby U.S. officials for debt relief for Congo, among other things, Justice Department records under the Foreign Agents Registration Act show.

He was lobbying for Congo just as Italian oil major Eni was looking at new projects off the country's coastline — in a deal that Ollivier was helping to shape. In April 2009, Eni's local unit signed a production-sharing contract with Congo's oil ministry. One condition: the Rome-based company had to commit to transfer a 25 percent share to a company of the government's choice, Eni said. The contract gave the Italian producer a 90 percent stake in the block; the other 10 percent was held by the SNPC.
Ollivier says ensuring that another company could get a cut in the block and then finding the Och-Ziff venture, New Age (African Global Energy) Ltd., were his doing. He says he advised Sassou Nguesso that Congo needed a third party to help ensure Eni wasn't inflating costs, as any single operator might be inclined to do to increase its own share of the profits.
"I told the president that for this field it would be a good thing to have a barking dog which would create a lot of pressure on Eni and will control that cost," Ollivier says. A grin spreads across his face.
Eni declined to comment specifically, saying only that it "operates in full respect of the economic interests of the state as defined in the agreements signed."
New Age had sprung out of Och-Ziff's 2008 foray into Africa, when it formed a joint venture with Palladino Holdings Ltd., a company controlled by South African businessman Walter Hennig with natural resource projects and property in several African countries.
The venture's two African Global Capital funds controlled 66 percent of New Age at the outset, as they and other shareholders paid $140 million toward the startup's launch, according to an internal Och-Ziff memo. The funds' investment committee, which gave the final approval on all deals, was led by Michael Cohen, Och-Ziff's London-based head of Europe, Middle East and Africa, the memo said.
AGC "has effective control of the company and each investment decision is subject to the firm's approval," it said. Cohen, who has since resigned from Och-Ziff, declined to comment.
"We're obviously very close to Och-Ziff as we are with all of our shareholders," New Age CEO Steven Lowden said in a phone interview. "They are a highly valued shareholder. They know the equity space, they know the oil and gas space."
Three months after signing with Eni in 2009, the oil ministry told the company that it had selected New Age, according to Eni. After a year of verifying New Age's credentials, Eni transferred the 25 percent stake, it said. New Age paid Eni $53 million, according to a 2011 prospectus of the venture when it was considering a Toronto Stock Exchange listing.
That came to little more than a third of the stake's net present value of $142.5 million, based on projections of future earnings, according to an estimate by Calgary-based petroleum consulting firm McDaniel & Associates, cited in the New Age prospectus. That valuation is based only on reserves found in the first of three fields, not in the Nene Marine field, which wasn't producing then, nor the third field.
Eni said in the e-mail that the payment wasn't based on value and rather, was simply to reimburse the company for its costs. McDaniel declined to update the figures.
Marine XII continues to show enormous promise. Eni says the probable reserves are now 5.5 billion barrels of crude. Nene Marine, one of the three fields found in Marine XII, started producing in January, with output expected to plateau at 140,000 barrels a day, according to Eni. Chief Executive Officer Claudio Descalzi said in June that the company planned to invest $1.5 billion in Congo.
While it's too early to say definitively, Marine XII could double Congo's oil output and make the country a more important location for Eni, David Thomson, senior analyst with energy research company Wood Mackenzie in Edinburgh, said in an interview.
"This could be absolutely transformational," Thomson said. "The success at Marine XII reaffirms Congo as being core to Eni."
New Age awarded Ollivier a 6.3 percent stake in the block, which he converted into a 2.4 percent direct stake in the company, according to corporate records filed in Jersey, where it is registered. That stake is worth $15 million, based on New Age's total worth of $619 million, according to a financial statement for last year. New Age also paid Palladino, the South African partner, $13 million for the "active and time-consuming role" it played in completing the Marine XII transaction, according to Palladino.
"Where is the conflict of interest?" asks Ollivier, getting up and pacing into the faint light pouring through the open double doors. "Don't you pay your broker? Everybody wins. Congo gains a good partner, who pays me by giving me some shares."
New Age has "at all times conducted its business in accordance with the highest ethical standards and all local and international legal requirements," according to a letter from its lawyers, Clyde & Co., in London.
Though Ollivier says he's now trying to forge an energy agreement between three major emerging-market nations, deals such as Marine XII may be becoming rarer.

Middlemen are less useful in today's Africa, where more transactions are done through big corporations. Almost half the continent's countries have a stock exchange. African stocks have rallied 13 percent in the last two years, outperforming global emerging-market equities by a factor of more than four. African issuers last year sold a record $16 billion of international bonds. Nations including Senegal and Zambia are using low borrowing costs in dollars to fund infrastructure from roads to power projects.
Ollivier "had a key position," said Olivier Longchamp of the Berne Declaration, which researches and campaigns for transparency in the commodities trade. "He is a kind of symbol that sums up the way deals used to be made."
He's still a consultant to Rosatom, "providing consultations on realizing several projects abroad," the Russian nuclear company said in an e-mailed response.
Ollivier says he's also focusing more time on the Brazzaville Foundation for Peace and Conservation, which he helped found last year to act as a conflict resolver. He recruited England's Prince Michael of Kent, the Queen's cousin, as its patron. It will have the added bonus of allowing its members to use it as a networking platform, he says. Ollivier's work to promote peace is well documented, Prince Michael said in an e-mailed response to questions.
Ollivier says that as he looks back on his career, a key principle stands out:
"One rule counts: I'm not here to judge anyone. It's just family. Family, you don't judge. Friends, you don't judge, either. You cannot judge. Who are you to judge?"
After a few more exchanges, the interview is over. Ollivier accompanies a reporter out to the gravel driveway, then steps past a life-size brass bulldog beside the heavy wooden front door and across the threshold, out of sight. —With David Kocieniewski, Jesse Westbrook, Tom Schoenberg and Dave Michaels, Michael J. Kavanagh and Paul Burkhardt
For more, read this QuickTake: The Resource Curse
Before it's here, it's on the Bloomberg Terminal.
LEARN MORE