The Billionaire Whose Clinton Foundation Ties Could Be Trouble for Hillary Clinton
Frank Giustra is the latest plutocrat to fall under the ex-president's spell.
By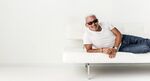 Like countless people before him, Frank Giustra's first meeting with Bill Clinton was a life-altering event indelibly etched in his memory. "We hit it off right away," Giustra recalls. "We hit it off for a whole number of reasons. We had a very similar upbringing. We had similar interests in books. Pretty soon, we were having a great conversation. I think he liked me."