Tools
Ten Ways the Apple Watch Can Help You Do Your Job
Most productivity apps are still getting their footing on the new platform, but a few look promising
By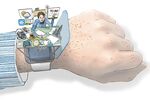 Most productivity apps on the Apple Watch won't blow you away—at least not yet. Such is the lifecycle of a brand-new platform: The big names release obligatory, often modest, offerings to plant their flags in virgin digital soil, and a few companies cash in with novelties designed to show just what the device can do. 
The real ideas roll in once developers have lived with a mobile gadget long enough to have "eureka" moments that transform it from a digital whoopee-cushion clearinghouse into a home for the next Instagram or Uber.
So one should approach the the current crop of apps available for the Apple Watch with realistic expectations; the platform's breakthroughs are almost certainly yet to come. Still, it's hard not to be at least a little impressed with what developers have ready for the device at launch. After living with the Apple Watch for about two weeks, these are the apps that seem to offer a peek at how the smartwatch will work its way into our working lives.
For Nailing Presentations
For the Watch extension of its Keynote presentation software, Apple wisely thought small: You won't be able to build a complete pitch deck from your wrist. Instead, the app turns your new gadget into a discreet controller for flipping through slides. Its operation is incredibly simple—the entire watch face is consumed by a single button that advances your slide, making it quite easy to operate blindly. This liberates you from the tyranny of the clicker and frees your hands for presentation-powering gestures and body language. In case you prefer Microsoft's PowerPoint for your presentations, there's a similar Watch app for that.
For Keeping in Touch With Your Teammates
Oh, Slack. It's not an exaggeration to say that this suddenly-everywhere chat app is changing the way teams collaborate and communicate. The Slack app for Apple Watch is a decidedly modest affair, serving primarily to alert you when somebody in a Slack chat is trying to get your attention. You can respond to direct messages and at-replies with a short prewritten response ("Sounds good," "Nope"), pop in an emoji (if that's how your office operates), or dictate a real response using the Watch's built-in microphone.
While some might miss scrolling through the entirety of their Slack chats, I'm glad the developers kept it simple. Active Slacks can quickly turn into nonstop text torrents, and overloading your Apple Watch with alerts for those would likely prove frustrating.
Competitor chat app Hall released a Watch version that lets users dive a bit more deeply into their chats and unread messages, and Cisco's WebEx conference tool has a Watch app that lets users quickly tap their way into virtual meetings with a single stroke.
For Re-Upping Supplies
When it comes to daily business, it's amazing how much I find myself turning to same-day delivery apps such as Postmates and WunWun. If your calendar is a solid block of busy, the ability to place an order quickly for a meal, office supplies, backup phone charger—or just about anything else from just about any store—is a seriously useful way of saving precious seconds.
The Postmates app for Apple Watch is a natural, if modest, extension of the same-day delivery service. Once you place an order, the Watch app subtly allows you to keep track of its delivery status without forcing you to break out your phone.
If you find yourself waiting for an arrival from more traditional parcel services, the Deliveries app lets you keep track of incoming packages with a quick wrist-ward glance.
For Making Self-Employment Work
For freelancers juggling multiple projects, a good timekeeping tool is essential for budgeting time and tracking hourly billing. The Hours Time Tracking app does this well. Opening the Watch version of the app brings up a list of ongoing timers associated with specific projects. With a quick tap, you can switch between them, making it easy to clock how many seconds were sunk into specific tasks. As a freelancer, I found the right-there accessibility of the Watch version of this app made me less likely to forget to clock in and out of projects.
The Watch-friendly version of the Invoice2Go app also allows users to clock in and out of specific jobs but adds in the ability to send out invoices instantly to clients. And for basic accounting, I like the Calcbot calculator app. The Apple Watch doesn't come with a calculator function baked in, so this app effectively gives one of the most futuristic gadgets ever the latest features of a 1980s Casio wristwatch.
For more, read this QuickTake: An App Up Your Sleeve
Before it's here, it's on the Bloomberg Terminal.
LEARN MORE