Dis-United Kingdom Looms After Nationalists Sweep Scotland
Rodney Jefferson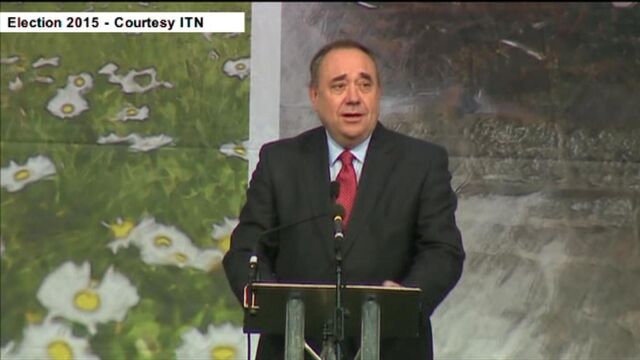 An historic election victory for the Scottish nationalists just months after losing an independence referendum has raised the prospect of another battle with the next government over the future of the U.K.
The Scottish National Party took all but three of Scotland's 59 parliamentary districts to become the third-largest party in the U.K. Parliament. It's the SNP's best-ever result in a U.K. vote and comes mainly at the expense of Labour, whose losses dashed its hopes of taking power from Prime Minister David Cameron's Conservatives.
SNP Leader Nicola Sturgeon, who also runs the semi-autonomous government in Edinburgh, is pressing for full control over Scotland's finances after the U.K. parties promised more power in the run-up to September's independence vote. The question now is whether what's offered will be enough to persuade her not to go back to the electorate.
"It sets up a test and presents the U.K. in all its complex glory," said Nicola McEwen, associate director of the Centre on Constitutional Change at Edinburgh University. "It will force the U.K. to confront what it is in all its component parts, whether the political establishment can accommodate a strong Scottish voice or dilute it."
How to Respond
Sturgeon, 44, who replaced Alex Salmond, 60, as leader after he quit a day after the referendum, avoided the issue of another independence vote during the campaign and hasn't stated whether it would feature in the campaign for Scottish Parliamentary elections next year.
New powers over the economy and taxation put forward by the government in recent months don't reflect the promises to Scottish voters to persuade them to vote against independence, said Stewart Hosie, deputy leader of the SNP.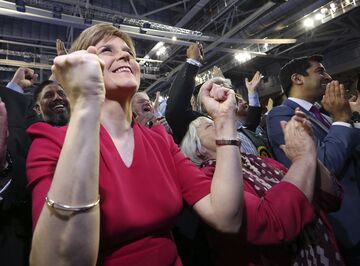 "The assessment is that that there can be a referendum when there's a qualitative change in circumstances," Hosie said in an interview with BBC Scotland after the exit poll. "We need to see a Westminster response."
Salmond said this week in what's now his new constituency in Aberdeenshire that nothing short of federal home rule would be acceptable. He told the BBC during the night there was a "lion roaring in Scotland" that no government could ignore.
Conservative lawmaker Boris Johnson, mayor of London, said there "has to be some sort of federal offer" to Scotland. "Everyone needs to take a deep breath and think about how we want the United Kingdom to progress."
Scottish Bogeyman
The SNP has dominated the election campaign, with Salmond portrayed in England by the Conservatives as the bogeyman who would hold Labour to ransom. Labour leader Ed Miliband repeatedly said he wouldn't do a deal with Sturgeon, who won plaudits during televised debates, to form a government.
Labour and the SNP may be closer in ideology, calling for more taxation of the highest earners and on the most expensive homes. Yet a Conservative back in No. 10 Downing St. won't be viewed as such a bad thing among many nationalists gunning for a second shot at winning independence.
As well as the debate over new powers, another red line for the SNP is European Union membership. Cameron is committed to holding a public vote on the EU by the end of 2017, with a poll last month showing Scots want to remain in the bloc. Any decision to leave the EU would fuel a desire to leave the U.K.
Reconciling Scotland
The immediate challenge confronting the new U.K. government is how to reconcile Scotland.
"If they can show U.K. politics can accommodate it, then it makes the U.K. more relevant," said McEwen at Edinburgh University. "But if there are suggestions of illegitimacy then it would backfire and put the union in jeopardy."
Since voters chose to remain in the three-centuries-old union with England by a margin of 55 percent to 45 percent, the SNP has capitalized on a surge in support and quadrupling of membership that even surprised its leadership.
There's been a rejuvenation of political engagement in pubs, schools and living rooms from Dumfries to Dingwall. Independence campaigners who joined the SNP stood as candidates, while others hit the streets to canvass for support.
The SNP had six seats in the House of Commons and its best previous result was 11 in 1974. While Sturgeon repeated as votes were counted that she wanted to oust Cameron and would support a minority Labour government under Miliband, her party's emphatic result has led to the opposite.
Key Labour figures losing seats in Scotland included campaign chief Douglas Alexander, who was replaced by 20-year-old student Mhairi Black, as the party was almost wiped in a stronghold it's held for almost a century. Jim Murphy, leader of Labour in Scotland, also failed to hang on.
The SNP took formerly safe Labour seats in Glasgow, Scotland's largest city, which voted for independence.
"We'll be sitting down tomorrow to see what it means for our representation," Natalie McGarry, the SNP's new lawmaker for Glasgow East, said in an interview after her victory. "We'll be a strong voice for Scotland regardless."
Before it's here, it's on the Bloomberg Terminal.
LEARN MORE