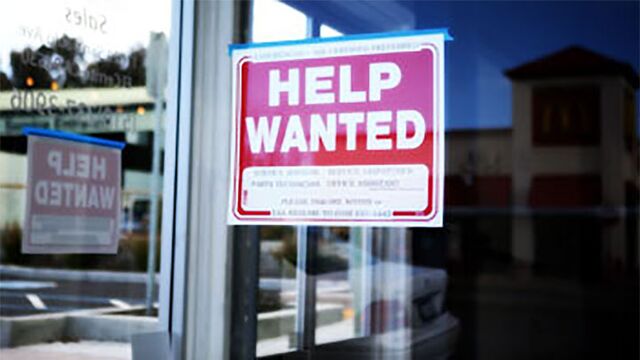 Yes, it's a hyperbole to say this jobs report is the most-important one ever. But economists can be excused this time around for being on pins and needles ahead of the Labor Department's April data, set for release at 8:30 a.m. Friday.
After the economy stalled in the first quarter, a rebound in hiring would help provide some reassurance that the expansion hasn't gone off the rails just as the Federal Reserve is considering raising interest rates for the first time since 2006.
Here's what economists will be watching:
Payrolls
Employers probably added 230,000 workers to payrolls last month, according to the median estimate of economists surveyed by Bloomberg, following an increase of 126,000 in March that was the smallest in more than a year.

Many economists will be looking for a rebound to corroborate the idea that March's soft report can be chalked up to temporary factors, such as bad weather or faulty seasonal adjustments. However, it also ``matters how big the pickup is, and not only that, but what the next few months look like,'' said Guy Berger, a U.S. economist at RBS Securities Inc. in Stamford, Connecticut.
"Let's say the number we get is something like 250,000 to 260,000 -- I think people are going to be like `OK, March really was a fluke, there's a fair amount of momentum left in the labor market,''' Berger said. "If the number comes in at 180,000 to 170,000, you're going to get people a bit more queasy. That raises the odds of people thinking there's been a meaningful slowdown in employment gains, and that starts entering into people's expectations about growth for the rest of the year."
Expectations for payrolls may have tempered a bit after Wednesday's ADP report on private hiring, which some people use as a proxy for the government data. The ADP figures showed a 169,000 gain in employment.
Still, only 125,000 or so new jobs each month are needed to keep up with population growth, said Ryan Sweet, a senior economist at Moody's Analytics Inc. in West Chester, Pennsylvania, so anything more than that will be enough to absorb slack in the labor market, he said.
Economists at Societe Generale in New York are among the most optimistic, projecting payrolls jumped by 315,000 last month. The period between the Labor Department's April and March employment surveys was five weeks, rather than the typical four. While the government tries to take that into account when adjusting the data for seasonal swings, history suggests the fix is imperfect, said Societe Generale's Chief Economist Aneta Markowska. That calendar quirk alone will boost the job count by about  100,000 , she said.
Wages
With other data bearing evidence of a nascent pickup in wage growth, economists also will scrutinize Friday's average hourly earnings figures. Hourly pay is seen climbing 0.2 percent in April from the month before and 2.3 percent from a year ago, which, while still paltry by historical standards, would be the biggest increase since August 2013.

"Wage growth is accelerating, but it's still mediocre," Sweet said. "We need much stronger wage growth to take the economy to the next stage of the expansion."
Earlier this month, the Labor Department's employment cost index, which is the preferred measure of wage growth for some economists, picked up in the first quarter from the prior three months. Private wages, which exclude government workers, rose 2.8 percent in the last year, the biggest gain since the third quarter of 2008.
"We've seen a little bit of an improvement, but given the decline in the unemployment rate, wage growth suggests there's still plenty of slack remaining in the job market," Sweet said.
Unemployment and Participation
The unemployment rate may have dropped even further in April, with economists projecting a decrease to 5.4 percent from 5.5 percent in the month before. That'd be the lowest level in almost seven years. Some see the rate declining even further, with a model touted by the Brookings Institution projecting a decline to 5.2 percent in April.
If it happened, that'd put the jobless rate within the range that the Fed considers full employment. The central tendency of the Fed policy makers' forecasts -- which eliminates the highest three and lowest three -- dropped in March to a range of 5 percent to 5.2 percent. It had been 5.2 percent to 5.5 percent in December. 
"In an economic cycle that has been consistently sluggish -- from the overall pace of growth to wage pressures to inflation -- the decline in the unemployment rate in the past several years has been truly impressive," Carl Riccadonna, chief U.S. economist at Bloomberg Intelligence, wrote in a research commentary. Still, the drop in joblessness loses some of its luster "because of the concurrent fall in labor force participation," which "overstates the degree of improvement in the labor market."
The labor force participation rate -- the share of the working age population that's employed or actively looking for work -- fell to 62.7 percent in March, matching the lowest level since 1978.
A rise in the participation rate could be an indication that people consider the job market improved enough to attempt to find work again. 
"I'm still betting on there being people out there that could come back into the labor force," said Tara Sinclair, the Washington-based chief economist at Indeed Inc.,  a job-posting search engine. "That could slow the need for an interest rate hike."
The Fed 
Enter Fed policy makers, who are weighing when to lift their benchmark interest rate off its current near-zero level. Friday's report will probably go a long way toward determining the timing of that move -- either as validation that momentum is still in place and rate increases could start this year, or as a sign growth has decelerated and the economy warrants further accommodation.
In a Bloomberg survey conducted in April, 73 percent of respondents predicted the central bank will wait until September. That was up from 37 percent in a March survey, when a majority of economists predicted an increase in June or July. 
"The Fed has really started to set up expectations that interest rate hikes are coming," Sinclair said. Still, "you've got this recent set of numbers that have come in below forecasts, and if that pattern continues, that's going to push off when the Fed is going to consider raising rates." 
For more on the global economy, check out Benchmark: