For Charles Evans, Static Wages Reason to Keep Arguing for 2016
Wes Goodman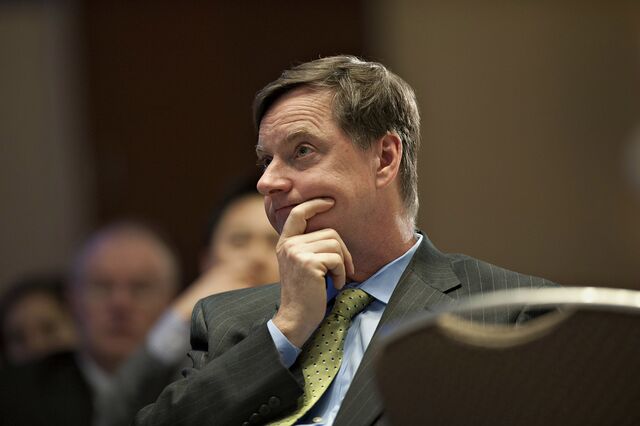 For Charles Evans, the U.S. employment report Friday is shaping up as a reason to keep arguing for a rate increase in 2016 instead of 2015.
The president of the Federal Reserve Bank of Chicago said this week the central bank should wait for more evidence wages are advancing before boosting interest rates. Average hourly earnings are only going to deliver a 0.2 percent gain for April, slowing from 0.3 percent in March and matching the average for the past year, based on a Bloomberg survey of economists.
Bond investors will be watching just as closely. A weaker-than-expected employment report April 3 sent the Bloomberg U.S. Treasury Bond Index up 0.4 percent. The market hasn't rallied as much since. The opposite happened on March 6 when the jobs data exceeded the survey projection. The bond index tumbled 0.7 percent, the steepest loss in the past two months.
"Wages have been depressed," said Yusuke Ito, a bond investor in Tokyo at Mizuho Asset Management, which oversees the equivalent of $33.5 million. "The labor market, even though it has been improving, is not strong enough to justify a rate hike. Not this year."
Benchmark U.S. 10-year notes yielded 2.25 percent as of 12:12 p.m. Tokyo time after climbing to a two-month high of 2.26 percent Wednesday, according to Bloomberg Bond Trader data. That's still less than the average of 3.24 percent for the past decade.
The jobs report will show U.S. employers added 230,000 positions in April, versus 126,000 in March, based on the Bloomberg surveys.
Fed Quandary
Fed policy makers face a dilemma as they consider when to raise their benchmark interest rate from near zero. While traders are predicting inflation will accelerate, consumer prices have been falling and are stuck at about zero. The central bank's target is 2 percent.
The difference between yields on 10-year notes and similar-maturity Treasury Inflation Protected Securities, a gauge of trader expectations for consumer prices over the life of the debt, was 1.91 percentage points.
U.S. consumer prices fell 0.1 percent in March from a year earlier, based on the most recent data from the Labor Department.
While the central bank will probably increase borrowing costs in December, based on a Morgan Stanley index, Evans is gaining support.
DoubleLine Capital's Jeffrey Gundlach said this week the Fed may not be in a position to boost rates this year. Minneapolis Fed President Narayana Kocherlakota said it would be "inappropriate" to act in 2015 because of the low inflation rate.
Under the Fed's rotation system, Evans votes on monetary policy this year while Kocherlakota does not.
While a Fed rate increase is coming, Friday's data will determine whether Evans gathers support for his push to delay it until next year.
Before it's here, it's on the Bloomberg Terminal.
LEARN MORE