First U.K. Result in Line With Exit Poll, Senior Pollster Says
Robert Hutton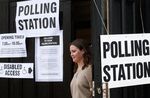 John Curtice, the man behind the British election exit poll that suggests David Cameron is on course to remain prime minister, said the first result of the night was in line with his forecast.
The exit poll is calculated by interviewing voters at 140 polling stations across the U.K., measuring how behavior has changed since the last election in 2010 and using that to predict results nationwide. Ahead of the election, Curtice had expressed doubts about whether it would be possible to produce an accurate prediction.
Labour held the seat of Houghton and Sunderland South in northeast England with 55 percent of the vote, up five percentage points from 2010. The Liberal Democrats won just 2 percent of the vote.
"This particular result is pretty much exactly in line with what we expected," Curtice, professor of politics at Strathclyde University in Glasgow, Scotland, told the BBC. "But the crucial test is going to lie in seats outside the northeast, because it's outside the northeast where it looks as if the Labour Party isn't doing well enough."