Democrats Tie Trade Bill Vote to Worker and Currency Protections
Richard Rubin and Kathleen Miller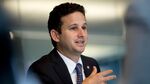 Senate Democrats won't allow a vote to speed negotiations on an Asia-Pacific trade deal unless the legislation is combined with bills to protect U.S. workers, help developing countries and punish nations that manipulate their currencies, Senator Chuck Schumer said.
President Barack Obama has sought legislation largely backed by Republicans that would give him authority to negotiate a 12-nation deal called the Trans-Pacific Partnership and submit it to Congress for an up-or-down vote. Three other bills -- to assist developing nations and workers displaced when jobs move overseas, and to apply tariffs to products that benefit from currency manipulation -- should be packaged with Obama's fast-track authority, Schumer said.
"There's a large feeling in our caucus that we want all those four put together before we move forward," Schumer, a New Yorker who is the Senate's third-ranking Democrat, said at a news conference Thursday in the U.S. Capitol.
Two other Democrats, Maryland's Ben Cardin and Connecticut's Richard Blumenthal, backed Schumer. Cardin voted for the fast-track bill when the Senate Finance Committee approved it April 22. Other Democratic lawmakers said earlier on Thursday that their party should wrest concessions from Republicans before allowing votes on Obama's trade promotion authority.
Leverage Sought
"It's really, really important not to give up our leverage," Representative Sander Levin of Michigan, the top Democrat on the House Ways and Means Committee and a lead opponent of the Asia-Pacific trade deal, said Thursday at a breakfast sponsored by the Christian Science Monitor. "Trade is not the only reason there has been income stagnation in this country, but it's one of them."
Levin has said he wants stronger environmental and worker protections in the trade pact, among other changes.
The Obama administration is clawing for votes to get fast-track authority for the Asia-Pacific deal through Congress. Obama so far has relied on an ad hoc alliance with congressional Republicans.
Senate Majority Leader Mitch McConnell has said the chamber will take up the trade measure after a bill to let Congress review a U.S. nuclear deal with Iran. That measure passed Thursday.
"The other countries in the region have made clear they will have regional trade agreements with or without us," McConnell said on the Senate floor Thursday, echoing an Obama talking point. "And if we walk away, China will step in."
Highways, Surveillance
Senator Brian Schatz of Hawaii told Bloomberg reporters and editors Thursday that it appears there are enough votes in the Senate to pass the trade promotion bill.
Schatz, a Democrat who opposes the measure, said he will back Senate Minority Leader Harry Reid's effort to force the Senate to consider bills to extend federal highway funding and modify U.S. surveillance laws before turning to trade legislation.
"There's a reason that we want to take care of these two important pieces first," Schatz said. "It's because if we don't, frankly, we're not going to get to them at all."
Democrats may be unable to stop the trade measure, "but you can't expect us to be unanimous in moving these things as fast as possible," Schatz said.
House Speaker John Boehner, an Ohio Republican, has said that Obama will need to rally Democratic votes for trade in his chamber, where Nancy Pelosi of California, the Democratic leader, says the trade pact should be improved.
The House won't vote on fast-track negotiating authority until June, after a week-long Memorial Day break, said Majority Leader Kevin McCarthy, a California Republican.
House Votes
Representative Tom Cole, an Oklahoma Republican, said in late April that about 180 to 200 House Republicans were ready to support the bill. That would be at least 17 short of what's needed for passage, and he said as many as 30 Democrats may make up the difference.
Trade promotion authority would let the president submit trade agreements to Congress for an expedited up-or-down vote without amendments. Obama considers fast-track authority crucial to his negotiations on a free-trade accord with 11 other Pacific Rim countries, a top priority in his final two years in office.
On Friday, Obama will make his case for the proposed Trans-Pacific Partnership, covering about 40 percent of the world's commerce, at Nike Inc. headquarters in the Democratic stronghold of suburban Portland, Oregon.
"It troubles me," Levin said, because Nike has operations in communist Vietnam, which lacks strong laws protecting workers' rights.
Senator Wyden
Oregon is the home state of Democratic Senator Ron Wyden, co-sponsor of the Senate legislation to give Obama the fast-track authority.
Struggling to win congressional support for top legislative priorities is nothing new for Obama, who has seldom shown an appetite for the tedious work of courting lawmakers.
The difference now, as he lobbies for Congress to give him fast-track authority for the Asia-Pacific pact, is that many of his fiercest opponents come from his own party.
Many Democrats remain stung by the 1994 North American Free Trade Agreement, which is blamed by labor unions for a decline in U.S. manufacturing jobs.
Schatz said the "deal breaker" for him on fast-track legislation is a provision that allows so-called investor-state dispute settlements, in which overseas companies can fight U.S. laws before international arbitrators.
"I want to guard the prerogatives of the legislative branch to make law and to make policy, and I'm not at all persuaded that the policies that we make will stick," he said.
Even so, Schatz said he's not concerned that the issue will drive a wedge between free-trade opponents in his party and Obama and his allies.
"I come from a state where Democrats fighting Democrats is the way we do it," Schatz said. "I don't have terrible heartburn about this idea that this will be a long-term permanent and personal rift between the factions of the party."