Comcast Tries to Repair Its Customer Service
The company turns to Twitter and an app to improve its image
By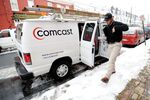 Even for the "Worst Company in America," it's been a rough year. Comcast, the largest U.S. cable provider, got that title—and the Golden Poo trophy that comes with it—from Consumerist, the advocacy blog owned by Consumer Reports, in April 2014. Since then, one of its customer-service reps badgered a family for canceling its service, and a recording of the incident went viral. It sent out bills that addressed one customer as "Asshole Brown" and another as "Super Bitch Bauer." Customers surveyed in its hometown of Philadelphia said they regard its service as "lousy" or "nonexistent." To cap it all, at the end of April, federal regulators pushed the company to abandon its proposed $45 billion acquisition of similarly despised Time Warner Cable, which Comcast spent about $336 million pursuing since last year.
The company's reputation has been in the toilet for years—it also "won" the Golden Poo in 2010—but bad press during the year when the government was considering the acquisition almost certainly contributed to the federal thumbs-down, says Craig Moffett, an analyst at researcher MoffettNathanson. "Comcast has been the unfortunate subject of an awful lot of embarrassing customer-service episodes over the past year," he says. "I think those episodes may have a bigger impact in Washington than many investors are aware."
Comcast's share price has held up, and its May 4 earnings report put quarterly profit above $2 billion. Still, cable-TV subscriptions fell, if only by 8,000 out of 22 million. As evidence mounts that customers are weary of pricey TV packages, the company says it's trying harder to win them over. "We know the service isn't where it needs to be," says Charlie Herrin, executive vice president for customer experience, a position created in September. "The product always needs to work, and when it doesn't, we need to get it fixed and simplify the process. Those are things we're working on." Neil Smit, president of Comcast's cable division, says Herrin has a budget of $300 million.
In February the company began sending customers personalized online billing videos that explain extra charges such as movie purchases. In March it expanded the team handling customer complaints via Facebook and Twitter from 20 employees to 60. It's testing a smartphone app that lets customers track the location of the technician headed their way. The app sends a photo of the technician when he's 30 minutes away. The customer can rate him afterward.
At a May 5 press conference, Comcast said it plans to hire an additional 5,500 employees to handle customer service over the next three years and hundreds more technicians to ensure that by fall the reps are almost always on time. If the cable guy is late, the company says, it'll credit you $20. "Customers' expectations have changed," Smit said at the press conference. "People want immediate gratification and immediate resolution to their problems."
U.S. subscriptions to cable, satellite, and fiber services fell for the second straight year in 2014, by about 176,000, says researcher SNL Kagan. Among the pressures facing Comcast is a flood of cheaper online pay-TV options, including Hulu Plus and Dish Network's Sling TV, which offers about 20 channels for $20 a month.
Herrin says Comcast's service turnaround is "certainly not something that's going to happen in two months." Consumer advocates certainly agree. "We've heard promises to do better before, but year after year, complaints keep piling up," says Delara Derakhshani, policy counsel at Consumers Union, the policy arm of Consumer Reports. "Judging by all the negative attention they've been getting recently, they have serious fundamental problems, and they have for a long time."
The bottom line: Comcast says it's budgeting $300 million to improve customer service after scrapping its deal for Time Warner Cable.
Before it's here, it's on the Bloomberg Terminal.
LEARN MORE