pursuits
Scene Last Night: Loeb Goes Gorilla as PEN Honors Charlie Hebdo
Amanda Gordon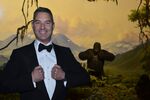 Dan Loeb deemed the "Water Hole" diorama with giraffes and a gazelle an unsuitable background for a photo.
"Let's find something violent," said the founder and chief executive officer of Third Point, swiveling to another display in the Akeley Hall of African Mammals at the American Museum of Natural History.
A moment later, Loeb was pounding his chest in front of a gorilla.
That wasn't the only thing putting the hedge-fund manager in a fighting mood at the PEN American Center's Literary Gala Tuesday night.
"We had to dodge sniper fire to get here," Loeb said, an exaggerated way of referring to the heightened security presence outside the museum on a night that Charlie Hebdo would be honored with the Freedom of Expression Courage Award.
In advance of the gala, a group of PEN members had opposed bestowing the recognition to the French satirical magazine, which in January was the target of an attack that left 12 people dead. The dissenting writers, including Junot Diaz and Joyce Carol Oates, said the magazine's cartoons of the Prophet Muhammad violated "acceptable" expression. This week, an event in Garland, Texas, featuring artwork and cartoons depicting the Prophet Muhammad led to a shootout.
Dohle, Chernow
"We care a lot about freedom of expression," Loeb said, standing next to his wife, Margaret, and summing up the general mood of the 800 guests attending the event, which raised $1.4 million.
They included Markus Dohle, CEO of Penguin Random House, the event's Publisher Honoree; Ron Chernow, author of the biography of Alexander Hamilton that the musical, "Hamilton," is based on; Andrew Solomon, the author and president of PEN American Center; Beau Willimon of "House of Cards"; Glenn Close who presented an award to playwright Tom Stoppard; "New Yorker" cartoonist Roz Chast; thriller writer Alex Berenson and poet Rachel Zucker.
Suzanne Nossel, PEN's executive director, called on guests to support imprisoned Ajerbaijani journalist Khadija Ismayilova, who received the Freedom to Write Award.
The Loebs hosted two tables with guests including designer Stacey Bendet and author Meg Wolitzer, one of the gala's "literary hosts." Art Spiegelman and Alison Bechdel were also hosts who stepped in after Francine Prose, Teju Cole and other writers withdrew.
Fighting Racism
"The issues are complicated," said Bechdel, author of the graphic novel "Fun Home," now a Tony-nominated Broadway musical. "I'm happy to be here. In the end, this is the right thing to do. This is an award for courage."
Spiegelman, author of "Maus," wore a tie decorated with images of Nancy, the comic strip character. "This is as close as I come to formal wear -- it's the only tie I own," he said.
Referring to the dissenters' assessment of cartoons in Charlie Hebdo, Spiegelman said he doesn't understand what they're looking at.
"Je suis Charlie," he said, holding a cigarette.
Gerard Biard, Charlie Hebdo's editor-in-chief, said he decided to give his speech in English "even if it makes me look like an illiterate. It's my first time in New York. I didn't want to spoil it with French arrogance."
Charlie Hebdo "has always fought all forms of racism since the very beginning," Biard said. Yet becoming a symbol for freedom of expression with the Jan. 7 massacre had put the magazine in a difficult position.
"We can't be the only ones to symbolize values that belong to everyone," he said. "It's dangerous for us, because we are in the front line, and it's dangerous for democracy. Each citizen of the world must adopt these values and stand up for them, against political and religious obscurantism."
(Find this column at NI SCENE.)
Before it's here, it's on the Bloomberg Terminal.
LEARN MORE