If Nepal Says It Has Too Many Health Workers, the World Should Listen
It's time for the international aid community to take stock of what the country really needs.
By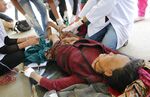 More than a week since a magnitude-7.8 earthquake devastated Nepal, humanitarian relief—in the form of money, supplies, and personnel—has steadily poured into the country. As a part of the response, several medical teams (many from America) have rushed to treat survivors. But according to a government official quoted by regional news outlets, Nepal doesn't really need any more medical personnel—what it needs are medical supplies.
Here's what Khem Karki, the member secretary of Nepal's Health Research Council who coordinates incoming foreign medical teams, told DNA India:
"It is great that doctors from across the globe over are landing in Nepal to treat the injured. But currently, there's an oversupply, and we have not yet been able to allot some of them their area of work. There are more than 80 doctors waiting for deployment, while 250 are already working on the field."
The outpouring of aid to Nepal is well-intentioned and much-appreciated, but it's also divorced from the actual needs on the ground. This type of disconnect has happened before during global disasters. Humanitarian efforts after the 2004 Tsunami in the Indian Ocean, for example, were marred by coordination problems and rivalry between international non-profits.
And after the 2010 earthquake in Haiti, several independent non-profits and volunteers tried out lofty but tone-deaf plans to help; here's Rory Caroll, writing in The Guardian at the time:
Haiti needs NGO help. But it also needs to rein in aid tourists who turn the country into a zoo and to fold the serious NGOs into a coherent, Haitian-directed strategy.
In the case of Haiti, noble intentions weren't enough. The World Health Organization's Ian Norton, who heads the program of  foreign medical teams, recently told the New York Times that 30,000 Haitians died because of a lack of proper medical care. Part of the problem was a gap between what the country needed and what the international community offered. Norton praised the Nepal government's plea for foreign rescue workers to leave, saying that doing so would free up transport facilities and resources (a request the that many rescuers have refused to heed, according to the Times):
"More is not better at this point," Dr. Norton said. "If you're not contributing, you need to make way for those who are."
The Nepal government has set up a Medical Emergency Operation Centre to clear the areas where they still require assistance. What it now needs from the international aid community is to listen before rushing in.