Restaurants
How to Quit Banking and Open One of America's Top New Restaurants
Santiago Perez and Santiago Gomez had a business plan that fell apart. All that was left was an idea
By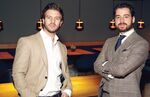 Santiago Perez, 30, and Santiago Gomez, 29, were high school friends growing up in Mexico City with similar names and shared dreams — each wanted to be an investment banker. And they succeeded, advising clients at UBS (often on restaurant/hospitality acquisitions), first in Mexico, then, together again, in London. It was only in New York that they realized their true passion was for food. A plan was hatched to create a Mexican restaurant in NYC alongside their banking careers. (It seemed like a good idea to keep their day jobs.) In the end, the two Santiagos realized it had to be one or the other, and they left UBS to create Cosme, one of the most widely noted restaurant openings in America in 2014. Six months into their run, Peter Elliot met with them at Bloomberg headquarters. (See also: Bloomberg's review of Cosme, and how-to instructions on making their fantastic duck tacos.)
Did your background at UBS contribute to how you developed the plan for Cosme?
Perez: Yes and no. Yes, there's a certain amount of analytical thinking — looking at competitors, sizing up the market, creating a business plan for investors — that was classic UBS. The decision to leave, the decision to go out on our own and then everything else that happened after that, was purely passion and luck.
How did you assess the competition? All NYC Mexican?
Gomez: At first yes. We looked at every Mexican restaurant but soon realized our vision was larger. It wasn't just Mexican we wanted, it was fine dining, too. Once we broadened the vision, the competitive field became more obvious. We knew we had to create the best Mexican and compete in the hyper-competitive world of NYC fine dining.

Why were you so convinced there was a hole in the market?
Perez: We weren't. There is and was good Mexican food in New York. We wanted to do something else. We wanted the best, plus design, plus acceptance in the community of the best restaurants. That's where getting the world's best Mexican chef came into the plan.
And how did you do that — two young Mexicanos knocking on the door of Enrique Olvera, one of the most famous chefs in the world?
Perez: Yes, as a matter of fact. Once we knew what we wanted, it was a matter of getting to Enrique and seeing if he'd listen to us. We happened to be at an event with Alex Stupak [Empellon in NYC], met Enrique and we just pressed business cards, a little talk, and then we went to Pujol [Olvera's restaurant] in Mexico City. We lunched, then waited two hours until he saw us.
And what made him agree to your proposal versus presumably many others?
Gomez: Passion, I think — and the vision. He had many offers in NYC. He liked the business plan and we all had a camaraderie that was instant. For the concept of fine-Mexican dining to work everyone had to have skin in the game — Enrique, us and Alonso de Garay, our friend who designed the space and kitchens at Cosme. We are all equal partners with different roles. Enrique creative, Alonso design and the two of us on the business and marketing side.
So the business plan, detailed analysis, charts — all that worked?
Gomez: No. None of it worked. The only thing that remained the same in the business plan was the vision. Not one part of the rest happened the way we imagined it.
And what was most off plan?
Perez: Real estate. We planned to open in Tribeca because that's where we thought our demographic and future would be. The community board didn't want us. So we set out looking again for a new space. We saw more than 100. In the end they did us a favor by forcing us off plan.
That's normal more or less, right?
Perez: We're foreigners. Even with cash, few people are willing to take a bet on three untested restaurateurs — even with Enrique. So it was a long time before we found the space. It was the hardest part: feeling foreign, having to prove your vision every day and then the constant overruns, costs, delays, permits. We thought we were getting into the restaurant business but we really got into the construction business.

How does that compare vs. Mexico? How much overbudget were you?
Gomez: In Mexico, if you want to move a wall, you move the wall. Here, it can mean weeks of delays. In the end, we were 50 percent or more over budget. All in, Cosme cost $4 million to build.
What would you change?
Perez: The first few months were tough, but honestly, there's little we'd change. It's something you have to go through. We have a great team, we are all still friends and our vision has won out. Now we can look at how to make money. We're adding lunch and brunch, we'll finish the taqueria factory in Brooklyn and explore, maybe, a "Cosme 2" or "Cosme Light."
So now that you're pros, if one of your former colleagues says they're interested in opening a restaurant, what do you say?
Perez: Don't do it! We had vision — and cajones — but still, it's a world where margins are small and you need passion to survive, and that has to count.
This interview originally appeared in Bloomberg reserve, a monthly lifestyle newsletter.  Follow Peter Elliot on Twitter and Instagram @mrpeterelliot
Before it's here, it's on the Bloomberg Terminal.
LEARN MORE