Election Threatens Gilts After Selloff Sends 10-Year Yield to 2%
David Goodman
In the week of a general election that looks set to produce no clear winner, a global selloff in government bonds was the last thing U.K. bondholders needed.
Yields on benchmark 10-year gilts exceeded 2 percent for the first time this year on Wednesday before stabilizing, joining this month's tumble in bonds from Europe to the U.S. With polls indicating neither Labour nor the Conservatives will win the overall majority of seats they need to govern alone after Thursday's vote, traders are braced for more volatility.
Gilts have handed investors a 1.2 percent loss this year through Tuesday, the worst performance after Greece among 31 sovereign markets tracked by Bloomberg World Bond Indexes.
"The gilt selloff is in part catch-up to bunds but there is also an element of political risk being factored in," said Jason Simpson, a fixed-income strategist at Societe Generale SA in London. The movement of gilts after the election "is entirely dependent on what the arrangement is for seats. If there is no obvious winner and a perceived lack of legitimacy for anyone to form a workable government then yes, yields could go up."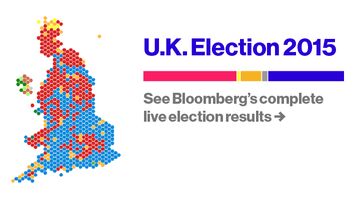 Benchmark 10-year gilt yields were little changed at 1.98 percent as of 4:13 p.m. London time, after earlier climbing to 2.02 percent, the highest since Dec. 8. The yield was below 1.5 percent as recently as April 14. The price of the 5 percent bond due in March 2025 was 126.865 percent of face value.
Election Outcome
Voting results are due Friday morning and both sides will be calculating whether they can put together a majority with the support of one or more smaller parties, including the Scottish National Party, which campaigned for independence in last year's Scottish referendum.
Investors are also wary about a possible referendum on Britain's membership of the European Union, which Prime Minister David Cameron has promised to hold by the end of 2017 if the Conservatives are re-elected.
"The real problem for gilts could come after the election in the event of either the Scottish National Party holding the balance of power and agitating for another referendum on Scottish independence, or a Conservative/U.K. Independence Party coalition leading to an in-out referendum on EU membership," Howard Cunningham, a London-based director of investment management at Newton Investment Management Ltd., wrote in an e-mailed note. "Either of those scenarios would inject uncertainty, hit confidence and deter investment."
Newton money managers have reduced gilt duration in their portfolio in recent weeks, and re-introduced bets that gilt futures contracts will decline, Cunningham said.
Global Selloff
Global bond markets have tumbled since the start of last week, erasing more than $340 billion in value amid signs growth is picking up and deflation risk is subsiding. Benchmark German 10-year yields rose to 0.59 percent on Wednesday, the highest this year.
The pound rose 0.4 percent to $1.5245 on Wednesday, and weakened 0.9 percent to 74.38 pence per euro.
One-week volatility on the pound against the dollar, a measure of anticipated price swings, climbed to as high as 18.7 percent, the most since May 2010. The three-month measure, at 10.2 percent, is down from as much as 12.5 percent in April, a sign investors are less concerned about longer-term risks.
Before it's here, it's on the Bloomberg Terminal.
LEARN MORE