EU Aims to Tear Down Online Barriers, Curb Web Giants
Stephanie Bodoni and Amy Thomson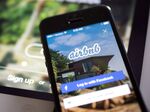 The European Union is gearing up to tear down digital barriers that block access to Internet-based services across the bloc with a series of measures and an e-commerce antitrust probe just weeks after it accused Google Inc. of abusing its market power.
The European Commission promised to deliver on 16 proposals by the end of 2016 that will combat online barriers that thwart EU shoppers from using websites outside their home country and will examine whether extra regulation is needed to curb Web companies' market power. The plans will affect everyone from room-sharing website Airbnb Inc. to e-commerce and search companies like Amazon.com Inc. and Google.
"I want to see pan-continental telecoms networks, digital services that cross borders and a wave of innovative European start-ups," European Commission President Jean-Claude Juncker said in a statement. "I want to see every consumer getting the best deals and every business accessing the widest market –- wherever they are in Europe."
Rebooting Europe's digital economy is a focus for regulators concerned that Europeans are failing to seize opportunities to buy, sell or view content across the 28-nation bloc.
Only 15 percent of people shop online from another EU country and online barriers block Internet companies and start-ups from growing and expanding, the EU said today. If successful, the EU's executive body hopes to contribute 415 billion euros ($470 billion) annually to its economy with the measures and "create hundreds of thousands of new jobs."
TV Shows
The Brussels-based commission plans to reduce the differences between national copyright laws with measures this year to make it easier for e-books, movies and TV shows to travel across countries. It will also propose rules to end the practice of "geo-blocking," in which companies make some products unavailable to other European countries or change prices based on the customers' location.
The e-commerce probe announced Wednesday adds to EU Competition Commissioner Margrethe Vestager's continuing four-year-old antitrust investigation of Google's search engine looking at allegations that the company favors its own services and paid ads over rivals.
Online Retailers
Vestager said in March she will seek information from broadcasters, manufacturers, online retailers and online platforms about possible legal and technical barriers to wider EU trade.
The commission intends to start an assessment of online platforms, including search engines, social media services and price-comparison websites, "to evaluate if further action," such as stricter regulation, is needed.
"Whether we want to regulate platforms will have to be evaluated over the coming year," Guenther Oettinger, the EU's digital affairs commissioner, told reporters in Brussels on Wednesday.
An industry group that speaks for technology companies including Google, EBay Inc., Netflix Inc. and Amazon, warned against any plans to regulate platforms as "ill-conceived given that businesses from newspapers to e-commerce sites to cars are increasingly becoming digital platforms."
"Platform regulation would hit European platform companies hardest given they grow here," James Waterworth, Europe vice-president of the Computer & Communications Industry Association, said in an e-mailed statement.
Global Landscape
The American Chamber of Commerce said the package of measures is "one of the best opportunities to date for Europe to reinvigorate its economy and remain competitive in an increasingly competitive global landscape."
Digital Europe -- an industry association that counts Apple Inc., Google, Hewlett-Packard Co. and other U.S. tech companies as its members -- said it supports the EU's "three-pronged strategy focused on achieving better access for consumers and businesses to online goods and services, encouraging investment in digital networks and building a digital economy and society with long-term growth potential."
Any draft EU legislation stemming from Wednesday's action plan would need approval from governments and lawmakers in the European Parliament before it would take effect.