Elton John Wows Congress with Pitch To Protect Global Anti-AIDS Funding
The famed English musician and evangelical pastor Rick Warren join forces at a Senate hearing.
By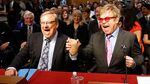 "Back in your cages. Give these people a break," quipped Senator Lindsey Graham, shooing away photographers who swarmed pop star Elton John and celebrity pastor Rick Warren as they arrived Wednesday to testify about the American role in battling the global AIDS epidemic.