business
ECB Gives Greece Another Week to Make a Deal
Nikos Chrysoloras and Ian Wishart
ECB Gives Greece Another Week to Make a Deal
Nikos Chrysoloras and Ian Wishart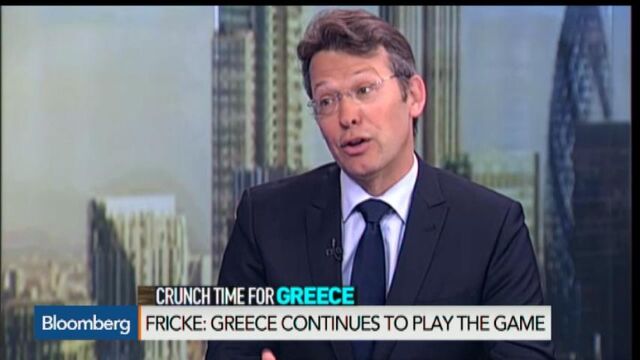 Greece needs to show it's serious about reaching an agreement with international creditors next week or risk tighter liquidity rules being imposed on its banks.
European Central Bank officials want progress at a meeting of euro-region finance ministers on May 11 or they will consider tightening Greek banks' access to emergency liquidity they need to stay afloat, said two officials who spoke on condition of anonymity as the talks are private. One policy maker said they're prepared to raise haircuts -- the discounts imposed on collateral pledged by Greek banks in return for funding -- to levels seen last year. The ECB declined to comment.
The move reflects growing frustration among top decision makers with the game of brinkmanship shown by Greek Prime Minister Alexis Tsipras's government since it came to power 101 days ago. As talks drag on, Greek bank deposits are shriveling and ECB liquidity has become the country's chief lifeline.
"Rarely have I seen Europe so united, except for one country, on the need to follow the rules," ECB Executive Board Member Yves Mersch said in interview published on the ECB's website. "Those countries wouldn't like everything achieved in the past -- the effort made -- frustrated now that it is starting to bear fruit."
Solvency Concerns
Euro-area central bankers are concerned about Greece's solvency as debt repayments loom, and one official said next week's decision will hinge on Greece making a transfer to the International Monetary Fund of about 743 million euros ($843 million). At the same time, they're reluctant to act before politicians have a chance to salvage Greece's 240 billion-euro bailout, which is being administered by the ECB, IMF and European Commission.
Tsipras spoke directly with European Commission President Jean-Claude Juncker Wednesday to discuss "progress made in the talks between Greece and its partners over the last days," the EU said in a statement, adding that they talked about topics including pension reforms, competitiveness and job creation.
"One of the reasons why we haven't managed to reach an agreement yet is because we focused too much on the mechanics of the next loan tranche and not sufficiently on the live issue which is how can we afford to regrow Greece," Finance Minister Yanis Varoufakis said at an event in Brussels. "Of course we want to pay the IMF. We intend to pay every creditor."
The Athens Stock Exchange Index gained 3 percent to 841.54 at the close of trading. Greek bonds also advanced, with the yield on the 10-year Greek government bond dropping 34 basis points to 10.9 percent.
Limit Raised
Most members of the ECB's Governing Council, led by President Mario Draghi, argued Wednesday that it would be unfair to restrict access to liquidity before the outcome is clear from Monday's meeting of euro-area finance ministers, one of the people said. For now, governors are content to keep Greek banks' liquidity for as long as they are solvent and have adequate collateral, according to a so-called "terms of reference" unofficial document read to Bloomberg News.
"In the interest of all parties involved, one shouldn't expect spectacular results on Monday," German Finance Minister Wolfgang Schaeuble told reporters in Berlin. Handing aid to Greece without reforms in the country is a "bottomless pit that doesn't make sense," he said.
Blaming Creditors
With deposit withdrawals continuing at Greek banks, ECB officials raised the cap on Emergency Liquidity Assistance by 2 billion euros to 78.9 billion euros, the people said. The cash is provided by the Greek central bank against lower collateral standards than the ECB typically accepts.
Tsipras's government earlier this week blamed creditors for the failure to end the impasse. A government official said on Tuesday that no deal would be possible until the European Commission and IMF reduce the number of red lines they're demanding.
"I think these comments were not justified," French Finance Minister Michel Sapin told reporters Thursday in Brussels. "Institutions may have different ways to hold talks, but there are no disagreements, no differences between them."
For more, read this QuickTake: Greece's Fiscal Odyssey