business
Hot Drugs Show Sharp Price Hikes in Shadow Market
Robert Langreth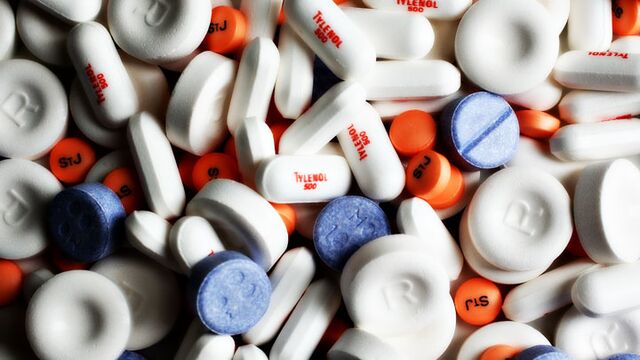 On May 30 last year, the price for a vial of the blockbuster diabetes medication Lantus went up by 16.1 percent. On the next day, Lantus's direct competitor, Levemir, also registered a price increase -- of 16.1 percent.
The pattern repeated itself six months later when Lantus, from French drugmaker Sanofi, was marked up 11.9 percent, and Levemir, made by Novo Nordisk A/S, matched again exactly.
In 13 instances since 2009, prices of Lantus and Levemir -- which dominate the global market for long-acting injectable insulin with $11 billion in combined sales -- have gone up in tandem in the U.S., according to SSR Health, a market researcher in Montclair, New Jersey.

Contrary to the consumer's ideal in which bare-knuckled rivals cut prices to grab market share, competitors in branded pharmaceuticals often drive each other's prices higher. This behavior, known as "shadow pricing," is one reason U.S. drug costs are surging. Prescription spending rose 13 percent last year to $374 billion, according to IMS Health Holdings Inc.
Sanofi sets the price of its drugs independently, according to a company statement. Novo Nordisk, based in Bagsvaerd, Denmark, said greater insulin demand is helping to drive price increases.
Within the last two years, Eli Lilly & Co.'s Humalog, a shorter-acting diabetes treatment, and Novo Nordisk's Novolog have matched three of each other's price increases, according to data compiled by Bloomberg. Eli Lilly, based in Indianapolis, declined to comment on its pricing moves.
Catching the Newcomers
Two older mainstays among multiple-sclerosis drugs, made by other companies, have increased prices to seven times their 1990s levels to catch up with the prices of newcomers, researchers reported in April in the journal Neurology.
Rising prices are causing affordability issues for some diabetes patients and frustrating doctors. Many of the leading medications are forms of insulin, which after nearly a century of use, has no generic form as a low-cost U.S. alternative.

Five diabetes treatments were among 27 branded drugs showing price gains of at least 20 percent in typical dosages since the first quarter of 2014, a survey for Bloomberg found. Over five years, prices of dozens of drugs doubled or more while the Consumer Price Index rose only 9 percent.
Prices of Lantus and Levemir vials moved up in tandem by 30 percent over one year. Each carries an average wholesale price of $29.82 per milliliter, according to the survey by DRX, a unit of Connecture Inc. that provides price-comparison software to health plans.
Staying Competitive
Sanofi and Novo "are taking the same price increase down to the decimal point within a few days of each other," said Richard Evans, an SSR analyst. "That is pretty much a clear signal that your competitor doesn't intend to price-compete with you."
Sanofi has increased Lantus discounts significantly to keep a favorable position on health plans' coverage lists, according to Mary Kathryn Steel, a spokeswoman. The company reported first-quarter U.S. Lantus sales declined 13 percent.

Rebates on all of Novo Nordisk's drugs in North America grew to about 50 percent of list prices in 2014, from around 35 percent in 2010, the company said. "We're always monitoring the pricing environment to stay competitive," said Ken Inchausti, a spokesman.
Some of biggest price increases are coming from aging blockbusters, including Pfizer Inc.'s erectile dysfunction drug Viagra, according to the DRX survey for Bloomberg. EpiPen, Mylan NV's injection for allergic reactions, soared 32 percent in price last year and tripled over five years.
Not Healthy
Branded prescription drugs "are basically not a competitive market," when it comes to prices, Stephen Schondelmeyer, a pharmacist and economist at the University of Minnesota, said.
A pattern of insulin makers matching each others price increases "certainly indicates a market that isn't competitively healthy," said David Balto, an antitrust lawyer and former Federal Trade Commission policy director. However, if two companies act independently to follow each other's price increases, it's not an antitrust violation, he said.
The survey covered drugs brands with U.S. sales of at least $350 million last year, according data compiled by Bloomberg. It focused on the average wholesale price, a benchmark that's roughly equivalent to what an uninsured patient might pay at the pharmacy without the 15 to 20 percent discounts that big health plans get, said Jim Yocum, executive vice president for DRX.
Hitting the Donut Hole
Insulin treatment has remained generic resistant because incremental improvements over the years have received new patents, according to Jeremy Greene, an associate professor at the Johns Hopkins University School of Medicine.
"If any drug should be available generically, it should be insulin," Greene said. The new insulins are "not so much better that it justifies the presence of people who can't afford any drug." A Sanofi statement said "today's insulins are markedly improved" from those of a century ago.
Stan Lynam, a retired real-estate agent with diabetes in Riverbank, California, said he will soon have to stop taking Levemir and Novolog. In the first three months of the year, his prescriptions for the two drugs cost his insurance plan $2,343, according to statements he received.
Lynam reached a coverage gap known as the "donut hole" in his Medicare drug plan in early April, he said. That would mean he would have to pay 45 percent of the drugs' costs to continue using them.
Hand Tremors
"If I were to buy the Levemir or Novolog, I would have to stop eating and turning on the lights," said Lynam, who is 70 and said he lives with his wife on $3,000 a month, mostly Social Security. Later this month, he's planning to switch to an older, cheaper insulin that is harder to use because it doesn't come in a pen injector, and his hand tremors make him worried about handling syringes.
Insulin manufacturers "are sticking it to us," he said. "They are not trying to compete."
"How much a patient pays is based on a negotiation between the payer and the pharmacy," said Novo Nordisk's Inchausti. He said the company couldn't comment fully without knowing details of a patient's health plan.
The wholesale U.S. price for a five-pen, 15-milliliter pack of Lantus is almost $450, or about $375 with a health-plan discount, according to DRX.
Cheaper in France
In France, the same amount -- which patients on higher doses might use in a month -- costs 62.42 euros ($70), according to a French government website. In Norway, Lantus pens cost
574.6 kronor ($76), according to the website of the Norwegian medicines agency.
Some manufacturers have recently boosted discounts as insurers and benefits managers have excluded more-expensive brands from lists of covered drugs. Gilead Sciences Inc. has said discounts for its hepatitis C drugs -- priced at $1,000 a day or more -- would rise significantly this year.
The Gilead case is an exception, according to DRX's Yocum. When discounts are given, he said later price rises on branded drugs, sometimes occurring twice a year, usually more than compensate for the prior markdowns.
Joel Zonszein, an endocrinologist at Montefiore Medical Center, in New York City, said he frequently sees patients who can't afford insulin. Co-payments have risen to as much as $50 a month from $5 or $10 five years ago, and the higher prices mean health plans sometimes restrict coverage, he said.
A number of his Medicare patients have stopped taking insulin when they reached the donut-hole coverage gap, Zonszein said. The problem "really has become more acute every year," he said. "I have these patients and I really don't know what to do for them."
* *
Companies had the following comments about the price increases in the DRX survey listed in accompanying tables.
AbbVie: Synthroid is priced comparably to other therapies in its class. Boehringer Ingelheim: Our products provide significant value to customers. Daiichi Sankyo: Welchol and Benicar prices are comparable to other brands. Eli Lilly: Price increases for Humulin R U-500 reflect steps to bring cost in line with less concentrated insulin forms.
GlaxoSmithKline: Bloomberg analysis does not account for discounts. Generic versions of Lovaza, Lamictal available. Jazz Pharmaceuticals: Initial list price assumed Xyrem approval for more patients; current price reflects costs of serving a smaller population. Johnson & Johnson: Invega's price is competitive with other agents in its category; discounts often reduce price.
Merck & Co.: Drugs are priced based on value to patients and payers. Committed to improving access to its medicines. Mylan: Deeply committed to ensuring EpiPen access with patient assistance programs. Novartis: Gleevec has the lowest price of U.S. pills for chronic myeloid leukemia. It gives financial aid to 35 percent of leukemia patients on its medicines.
Novo Nordisk: Insulin price increases are a result of higher demand; company sells a lower-cost alternative. Pfizer: List prices do not reflect discounts. Price based on benefit to patients. Prices sometimes raised if a drug still provides good clinical value at higher price. Sanofi: Sets prices independently. Has significantly increased discounts for Lantus in second half of 2014. Teva Pharmaceutical: Copaxone list price is competitive with other multiple sclerosis drugs.
Before it's here, it's on the Bloomberg Terminal.
LEARN MORE