Deadline Looms for Netanyahu Amid Reports of Coalition Agreement
Calev Ben-David and Jonathan Ferziger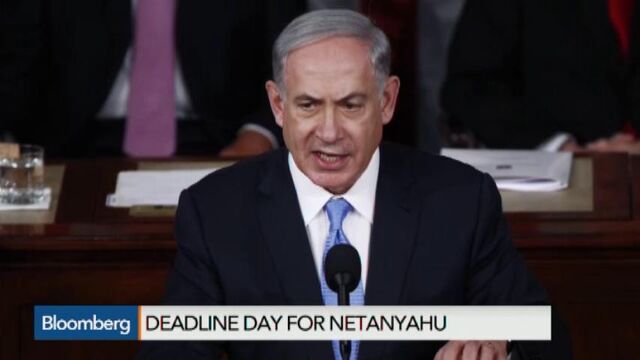 Israeli Prime Minister Benjamin Netanyahu's negotiations to form a new government are going down to the wire amid reports he's close to announcing an agreement after compromising with a key coalition partner.
Netanyahu is willing to appoint a justice minister from the Jewish Home party, the last faction the premier needs to secure a parliamentary majority, Channel 2 television and Israel Radio reported. Jewish Home leader Naftali Bennett is still opposing Netanyahu's insistence that the office would come with reduced authority, the broadcasters said. Spokesmen for both parties declined to comment.
If Netanyahu fails to secure agreement on a coalition by midnight, Isaac Herzog, whose Zionist Union emerged from the March 17 election as the second-biggest bloc, could get a chance to form a government.
Even with Jewish Home's support, the prime minister would end up with the narrowest possible majority -- 61 seats in the 120-member parliament. That would leave his coalition vulnerable to crises and make it hard to pass controversial legislation.
"It's a question of who blinks first, but at the end of the day Jewish Home will join with Likud," said Abraham Diskin, professor emeritus of political science at the Hebrew University of Jerusalem. "Bennett has no interest in a real crisis that would lead either to new elections, or push Netanyahu to join with a left-wing party like Zionist Union."
'Who Blinks First?'
Netanyahu, 65, is struggling to form a stable coalition after Foreign Minister Avigdor Liberman resigned on Tuesday and said his Yisrael Beytenu party won't join the government. The task is also complicated by Netanyahu's strained personal relationship with Bennett, who once served as the prime minister's chief-of-staff.
Bennett, whose party opposes Palestinian statehood, has criticized Netanyahu for not building more Jewish settlements in the West Bank. Such construction is considered illegitimate by most of the world, including allies such as the U.S., which has rebuked Israeli governments for expanding the settlements.
Israel's benchmark TA-25 Index for stocks fell 0.5 percent on Wednesday, trimming its gains this year below 11 percent. The yield on the benchmark government bonds due 2024 rose 14 basis points to 1.75 percent, according to data compiled by Bloomberg.
Netanyahu had earlier offered to make Bennett education minister, and give Jewish Home the Agriculture Ministry and the Ministry of Culture and Sport, the Times of Israel said.
Opposition chief Herzog said Tuesday that the Zionist Union won't join a Netanyahu-led government if the prime minister fails to reach a deal with other parties.