Cameron, Miliband Go North in Final Appeal for U.K. Leadership
Svenja O'Donnell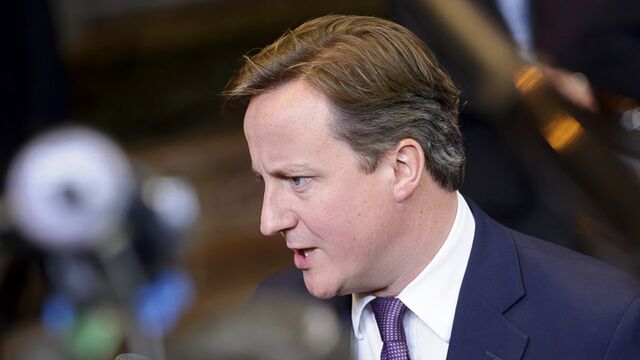 Conservative Prime Minister David Cameron and opposition Labour leader Ed Miliband both chose the north of England to make their final stands the night before voters go to the polls in the most uncertain election in decades.
Speaking at a campaign rally in Carlisle, close to the Scottish border, Cameron once again evoked the threat of a minority Labour government backed by Scotland's nationalists as a key reason to back his Tory party. At a Labour gathering in Leeds, Miliband warned of the dangers to families of a Conservative government.
"How you vote could make a real difference in this election campaign," Cameron told supporters at a livestock market. "It comes down to a choice of leadership. Whether you want me to continue leading our country and taking it forward or whether you want Ed Miliband and go back to the start and waste the work of the last five years."
As the latest polls continue to show both parties neck-and-neck, with neither set to get a majority, Britain is bracing for a hung parliament. Much of the future government's makeup will depend on the performance of the Liberal Democrats -- the Tories' current junior coalition partners, who are forecast to lose half their 57 seats -- and that of the Scottish National Party, predicted to gain all but a handful of Scotland's 59 seats.

'Powerful First'
Miliband reiterated his party's attack on the Conservatives in Leeds, saying a vote for Labour was a vote against their plan to "put the rich and powerful first" as he encouraged activists to keep working until the polls close at 10 p.m. on Thursday.
"We're fighting for a Britain where we reward the hard work of every working person, not just those that get the six-figure bonuses," Miliband said. "We've got to go out there tomorrow and go to every neighborhood, walk every street, knock on every door, to make our case."
The leader who secures Parliament's backing for his program, to be presented in the Queen's Speech on May 27, will be the one who ultimately secures victory. Negotiations with smaller parties are set to start Friday within hours of results being announced.
A poll by Panelbase published Wednesday put Labour at 33 percent and the Tories at 31 percent, in line with surveys since January showing the two main parties running neck-and-neck.
Nicola Sturgeon's SNP is set to become the third-largest party in the House of Commons, with its representation surging from its current six seats. Sturgeon has pledged to vote against any Conservative-led government.
By contrast, Liberal Democrat leader Nick Clegg has pledged to first negotiate with whichever party has "the biggest mandate from the British people" and has said his party will perform better than polls predict.