BHP Spinoff Will Put Productivity Over M&A in First Six Months
James Paton and David Stringer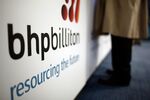 South32 Ltd., the company being spun off from BHP Billiton Ltd. in mining's biggest such deal in almost a decade, will be ready to look at potential acquisitions after focusing on productivity in its first six months.
"If we do go into the M&A space, it will be opportunistic and it will only be where we see value," Chief Executive Officer-elect Graham Kerr told reporters Wednesday. "We'll only pursue it if we have a mandate from investors."
BHP shareholders are meeting today in Perth to approve the creation of South32, which will become the world's largest producer of manganese ore and operate the biggest silver mine, under a plan that would see its shares start trading May 18 in Australia, the U.K. and South Africa.
"I'd be very surprised if there's not an incredibly strong vote," Kerr said. "I expected strong support, and I think my expectations have been well and truly surpassed."
The company may be worth $11.9 billion, according to the median estimate from five analysts compiled by Bloomberg. That would make it mining's second-largest spinoff, behind MMC Norilsk Nickel OJSC's $14.4 billion transaction to carve out Polyus Gold in 2006, according to data compiled by Bloomberg.
Banks from Investec Plc to JPMorgan Chase & Co. have cut estimates on South32's valuation as commodity prices have tumbled on oversupply and slower growth in China. Weaker prices could lower South32's valuation and also make it more susceptible to takeover approaches, according to Investec.
Commodity Prices
"The way people value South32 will be driven by their view on commodity prices," Kerr said. "Anyone who is interested in us has the same challenge."
A Bloomberg Index of 22 raw materials declined 4.3 percent in the first quarter and on March 17 fell to the lowest since Aug. 5, 2002. It's hard to predict how long the "current challenging pricing environment," will continue, Rio Tinto CEO Sam Walsh said April 30 in a speech in Seoul.
Shedding the collection of smaller assets is aimed at helping BHP accelerate cost cutting and exceed a target of producing annual efficiency gains of $4 billion from mid-2017, CEO Andrew Mackenzie said last month.
With 11 operations and one joint venture across five countries, South32 will focus on cutting costs and extending the life of assets that had been seen as too small to warrant funding by BHP, Kerr has said.
Investors will receive one South32 share for each BHP one they own.