markets
U.S. Stocks Gain, Treasuries Halt Drop Before Jobs; Pound Jumps
Jeremy Herron and Emma O'Brien
U.S. Stocks Gain, Treasuries Halt Drop Before Jobs; Pound Jumps
Jeremy Herron and Emma O'Brien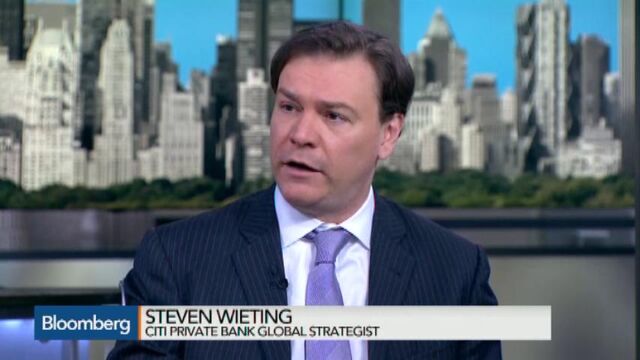 U.S. stocks climbed and Treasuries halted a weeklong slide before a labor report Friday that may clarify whether a first-quarter economic slowdown was temporary. Oil retreated, while the pound gained after an exit poll showed the Conservative Party may win the most seats in the U.K. election.
The Standard & Poor's 500 Index added 0.4 percent in New York, after the Stoxx Europe 600 Index closed higher for the first time in three days. The Bloomberg Dollar Spot Index gained 0.4 percent as yields on 10-year Treasuries fell six basis points to 2.18 percent. U.S. crude slid 3.3 percent. The pound strengthened 1 percent by 10:24 p.m. in London after the official exit poll, which indicated the Conservatives will still be just short of a majority in a probable hung parliament.

The S&P 500 rose from a one-month low, the dollar gauge rebounded from its weakest level since Feb. 5 and Treasuries turned positive after a rout that erased more than $400 billion from global bonds in two weeks. Federal Reserve policy makers are monitoring jobs data to determine the timing of higher borrowing costs after economic growth slowed in the first quarter for reasons the central bank called "transitory."
"We're seeing a rebound off some selling that took place recently," Bill Schultz, who oversees $1.2 billion as chief investment officer at McQueen, Ball & Associates in Bethlehem, Pennsylvania, said by phone. "The next trend will be set by whatever the employment numbers dictate tomorrow."
Global equities have retreated amid a selloff in government debt sparked by record-low yields in Germany that money managers have said appear unsustainable. At the same time, China's economy has slowed, leading to the biggest three-day slide in the country's stocks since June 2013, while a 51 percent rally in Brent crude since mid-January is adding to signs of inflation.
Jobless Claims
U.S. oil slipped below $60 a barrel on Thursday to settle at $58.94, while Brent slid 3.3 percent to $65.54 in London.
The latest data on applications for unemployment benefits showed jobless claims last week held near the lowest in 15 years. A private report Wednesday showed U.S. companies added the fewest workers in more than a year last month. U.S. data have been missing estimates by the most in more than six years, stoking concerns growth is slowing into the second quarter.
"The market has been getting mixed to negative messages over the last few days," Richard Sichel, chief investment officer at Philadelphia Trust Co., which oversees $2 billion, said by phone. "The market has had a more negative tone lately. It makes tomorrow's jobs number even more newsworthy than usual. You can't dismiss the international factors out there."
316 Seats
The pound advanced to $1.5390 and added 1 percent to 73.18 pence per euro. U.K. Prime Minister David Cameron's Conservatives were forecast to win 316 of the parliament's 650 seats, with Ed Miliband's Labour Party trailing on 239 seats, according to the exit poll.
U.S. equities rebounded Thursday after a two-day selloff sent the number of stocks trading above their 50-day moving average to the lowest level since January, data compiled by Bloomberg showed. At Wednesday's close, 200 members in the S&P 500 traded above the threshold, which is viewed by analysts to gauge a security's momentum. That's the lowest reading since Jan. 30.
Among U.S. stocks moving Thursday, Alibaba Group Holding Inc. jumped 7.5 percent after reporting a 45 percent increase in quarterly revenue. Yahoo! Inc., which owns a stake in the Chinese e-commerce company, gained 5.3 percent. Microsoft Corp. climbed 0.9 percent, while Exxon Mobil Corp. slipped 0.7 percent as oil declined.
Bonds Split
European bonds diverged after a uniform rout to start the month. Italian and Spanish government bonds advanced, while German and French debt continued to retreat.
Italy's 10-year bond yield fell 14 basis points to 1.78 percent, while similar-maturity Spanish bond rates dropped 15 basis points to 1.75 percent. Germany's 10-year bund yield, the euro area's benchmark sovereign securities, rose to the highest since December.
The euro fell from a more than two-month high versus the dollar as the turmoil in European debt markets eased. The 19-nation shared currency weakened 0.7 percent to $1.1270, after touching $1.1347, the highest level since Feb. 23.
"We're seeing some consolidation after some pretty powerful moves over the past two weeks," Mike Moran, a senior strategist in New York at Standard Chartered Plc, said by phone. "Payrolls will be a very important number. It'll really give us a much clearer read on the strongest part of the U.S. economy, which is undoubtedly the labor market."
Gold Drops
European stocks ended the day up 0.1 percent after erasing a decline of as much as 1.8 percent as a gauge of technology stocks and German equities reversed losses. The Stoxx 600 has fallen 6 percent from a record in April, when valuations were at the highest in at least a decade.
Greece's ASE Index climbed 3 percent, with Piraeus Bank SA and Attica Bank jumping more than 10 percent. The MSCI Emerging Markets Index slid 1.5 percent to the lowest since April 8.
Precious metals retreated, with gold futures losing 0.7 percent to $1,182.20 an ounce. The price has dropped 0.2 percent this year. The Bloomberg Commodity Index fell a second day, dropping 1.4 percent to be headed for a 0.3 percent decline this week.