Elizabeth Warren Says Dodd-Frank Will Be Casualty of Fast-Track Trade Bill
Carter Dougherty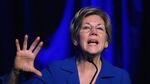 U.S. Senator Elizabeth Warren warned that granting President Barack Obama trade-negotiating authority will help Wall Street in its long campaign to roll back rules imposed on banks after the 2008 financial crisis.
"This is hardly a hypothetical possibility: We are already deep into negotiations with the European Union on a trade agreement and big banks on both sides of the Atlantic are gearing up to use that agreement to water down financial regulations," Warren, a staunch opponent of granting the president "fast-track" trade powers, said in a speech in Washington Tuesday.
Warren, a vocal critic of banks, said her concerns pertain to a future Republican administration cutting trade deals that override provisions of the 2010 Dodd-Frank Act. While lawmakers get a vote on whether to approve agreements that presidents negotiate under fast track, Congress can't amend or filibuster the accords.
Obama, who is urging Congress to pass legislation that would grant him and the next president fast-track authority for six years, wants to complete a trade pact with mostly Asian nations by the end of 2015 known as the Trans-Pacific Partnership. The U.S. and EU also are working on a deal called the Transatlantic Trade and Investment Partnership.
Bank Lobbying
As negotiations on both agreements got under way, Wall Street lobbied for them to cover areas that overlap with Dodd-Frank, such as international derivatives rules. Despite pressure from the EU, the Treasury Department has consistently opposed including financial regulations in trade deals.
"The Dodd-Frank Act is a signature achievement of the Obama administration that the president fought long and hard to pass into law," Treasury spokeswoman Whitney Smith said in an e-mailed statement. "Nothing we're doing in any of our trade agreements would weaken our ability to implement Wall Street reform now or in the future."
The trade legislation that Obama is seeking will probably pass in the Senate but faces an uncertain outcome in the House. Warren of Massachusetts has been urging her fellow Democrats to oppose the president.
Wall Street had success at the end of last year persuading Congress to roll back Dodd-Frank swaps rules. Since then, Democrats have been hesitant to vote for changes after Warren held a number of press conferences and made speeches attacking banks over their efforts to amend the financial-regulation law.
"After fighting hard to protect Dodd-Frank for years, Democrats in the next few weeks could give Republicans the very tool they need to dismantle Dodd-Frank," Warren said in her speech. "Anyone who supports Dodd-Frank and who believes we need strong rules to prevent the next financial crisis should be very worried."