U.K. Forged the Modern World. Why the Election Identity Crisis?
Rodney Jefferson and Benjamin Katz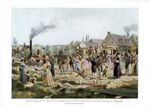 It was in 1825 when Darlington in northeast England etched its name in history. Today, the town long associated with the age of steam is a symbol of lost identity that's set to play out in this week's general election.