Syria Central Banker Says Iran Weighs $1 Billion Credit Line
Donna Abu-Nasr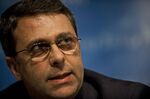 Syria and Iran are discussing a second $1 billion credit line to prop up the government of President Bashar al-Assad, a key regional ally of the Islamic Republic who's fighting a four-year war civil war.
Syrian Central Bank Governor Adib Mayaleh said that the Iranian government has given preliminary approval for the credit line, the second since 2013. The governor said Syria still has money left from the first $1 billion agreement, which helps finance imports.
"Iran remains an ally of Syria," Mayaleh said in a telephone interview from Damascus.
Iranian military and financial support has helped Assad's government survive Syria's conflict. Hezbollah, a pro-Iranian Lebanese militant group, has sent fighters to Syria to help Assad's forces battle mainly-Sunni groups seeking his ouster.
Opponents of Iran warn that a nuclear agreement with world powers will allow the Islamic Republic to extend more support to allies in the region, including Assad and Hezbollah. The deadline for a final accord with a group of countries led by the U.S. is June 30.
The war, coupled with international sanctions, have battered Syria's economy and weakened its currency.
If there's a credit line coming, "certainly the Syrians want it very badly," said David Butter, Middle East analyst and associate fellow at foreign policy research group Chatham House in London. "The Syrian side has clearly been pushing very hard to extend this $1 billion," with several delegations visiting Tehran recently, he said.
Exchange Rate
The Syrian pound traded at close to 50 pounds to the dollar before the conflict. The currency's depreciation has accelerated in the past months, weakening to 330 to the dollar last week on the black market, according to Mayaleh. It traded at about 280 a dollar Tuesday.
The governor accused Turkey, Qatar and Saudi Arabia of waging an economic war on Syria. The three countries have supported groups opposed to Assad.
"These speculators are just like the armed gunmen," the governor said.
Mayaleh said the government hasn't dipped into its reserves to intervene in the market but is using inflows of $10 million daily from personal transfers and exports to fund imports.
"It's a small market," said Butter. "The economy into which the central bank's influence stretches is much smaller than it used to be."
Before it's here, it's on the Bloomberg Terminal.
LEARN MORE