Food
New York City Chefs Win Big at the 2015 James Beard Foundation Awards
Major wins for New York this year, including best chef (Michael Anthony) and best pastry chef (Christina Tosi)
By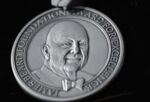 The James Beard Foundation announced the winners of its 2015 restaurant and chef awards tonight in Chicago, and New York took home several major wins. Outstanding Chef went to the brainy, vegetable-forward chef Michael Anthony (who recently took the lead at Untitled in the new Whitney Museum) for his years of work at Gramercy Tavern. Outstanding Pastry Chef went to the cookie-empire building Christina Tosi of Momofuku Milk Bar. (Do yourself a favor and bake her chocolate chip cookies, ASAP).
Blue Hill at Stone Barns won Outstanding Restaurant, and Bâtard, the latest in Tribeca from Drew Nieporent, won Best New Restaurant. This year the foundation launched a new category, Outstanding Baker, and the title went to Jim Lahey of New York's Sullivan Street Bakery, the tireless baker who helped launch a million no-knead breads.
A couple of additional highlights: Aaron Franklin of Franklin Barbecue, a superstar pitmaster who recently published a cookbook, won Best Chef in the Southwest category for his place in Austin, Tex. The Rising Star Chef award this year went to Jessica Largey of Manresa in Los Gatos, Calif., where she has been the chef de cuisine since 2012. 
Here's the full list of winners:
Best New Restaurant
Bâtard, New York
Outstanding Baker
Jim Lahey
Sullivan Street Bakery, New York
Outstanding Bar Program
The Violet Hour, Chicago
Outstanding Chef
Michael Anthony
Gramercy Tavern, New York
Outstanding Pastry Chef
Christina Tosi
Momofuku Milk Bar, New York
Outstanding Restaurant
Blue Hill at Stone Barns, Pocantico Hills, NY
Outstanding Restaurateur
Donnie Madia
One Off Hospitality Group (Blackbird, Avec, The Publican, and others), Chicago
Outstanding Service
The Barn at Blackberry Farm, Walland, Tenn.
Outstanding Wine Program
A16, San Francisco
Outstanding Wine, Beer, or Spirits Professional
Rajat Parr
Mina Group, San Francisco
Rising Star Chef of the Year
Jessica Largey
Manresa, Los Gatos, Calif.
Best Chef: Great Lakes (Ill., Ind., Mich., Ohio)
Jonathon Sawyer
Greenhouse Tavern, Cleveland
Best Chef: Mid-Atlantic (D.C., Del., Md., N.J., Pa., Va.)
Spike Gjerde
Woodberry Kitchen, Baltimore
Best Chef: Midwest (Iowa, Kans., Minn., Mo., N.D., Neb., S.D., Wisc.)
Gerard Craft
Niche, Clayton, Mo.
Best Chef: New York (Five Boroughs)
Mark Ladner
Del Posto
Best Chef: Northeast (Conn., Mass., Maine, N.H., N.Y., R.I., Vt.)
Barry Maiden
Hungry Mother, Cambridge, Mass.
Best Chef: Northwest (Alaska, Idaho, Mont., Ore., Wash., Wyo.)
Blaine Wetzel
The Willows Inn on Lummi Island, Lummi Island, Wash.
Best Chef: South (Ala., Ark., Fla, La., Miss., Puerto Rico)
Alon Shaya
Domenica, New Orleans
Best Chef: Southeast (Ga., Ky., N.C., S.C., Tenn., W.V.)
Jason Stanhope
FIG, Charleston, S.C.
Best Chef: Southwest (Ariz., Colo., N.M., Okla., Tex., Utah)
Aaron Franklin
Franklin Barbecue, Austin, Tex.
Best Chef: West (Calif., Hawaii, Nev.)
Stuart Brioza and Nicole Krasinski
State Bird Provisions, San Francisco
2015 James Beard Foundation America's Classics
Archie's Waeside, Le Mars, Iowa
Owner: Robert Rand 
Beaumont Inn, Harrodsburg, Ky.
Owners: Elizabeth and Dixon Dedman, Helen and Chuck Dedman
Guelaguetza, Los Angeles
Owners: The Lopez Family
Sally Bell's Kitchen, Richmond, Va.
Owners: Martha Crowe Jones and Scott Jones
Sevilla Restaurant, New York
Owners: Jose Lloves and Bienvenido Alvarez 
2015 James Beard Foundation Who's Who of Food & Beverage in America
Allan Benton, Pork Producer and Purveyor, Madisonville, Tenn.
Dale DeGroff, Mixologist, New York, N.Y.
Wylie Dufresne, Chef and Restaurateur, New York, N.Y. 
Nathalie Dupree, Cookbook Author and Television Personality, Charleston, S.C. 
Maricel Presilla, Chef, Restaurateur, and Cookbook Author, Hoboken, N.J.
2015 James Beard Foundation Humanitarian of the Year
Michel Nischan, CEO, President and Co-Founder of Wholesome Wave, Westport, Conn.
2015 James Beard Foundation Lifetime Achievement Award
Richard Melman, Lettuce Entertain You Enterprises, Chicago
2015 James Beard Foundation Outstanding Restaurant Design Awards
75 Seats and Under (For the best restaurant design or renovation in North America since Jan. 1, 2012)
Design Firm: Bureau of Architecture and Design
Designers: Tom Nahabedian and James Gorski
Project: Brindille, Chicago
76 Seats and Over (For the best restaurant design or renovation in North America since Jan. 1, 2012)
Design Firm: SOMA
Designers: Michel Abboud
Project: Workshop Kitchen + Bar, Palm Springs, Calif.
Before it's here, it's on the Bloomberg Terminal.
LEARN MORE