Islamic State Claims Responsibility for Texas Attack
By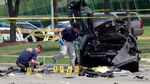 The terrorist group that calls itself Islamic State claimed that "two soldiers of the caliphate" carried out the attack in Garland, Texas, over the weekend, in an audio statement on the Al Bayan radio station on Tuesday, the Associated Press reports.
Two men, whom federal officials identified as Elton Simpson and Nadir Soofi, wounded a security officer at a cartoon contest that included images of the prophet Muhammad. Both men were shot and killed by responding officers.  
Though Islamic State, also known as ISIS, has often called for attacks against the West, this marks the first time it has claimed credit for an attack in the U.S. The statement contained no corroborating details. Homeland Security Secretary Jeh Johnson released a statement saying that authorities were investigating Simpson and Soofi's motives and all circumstances surrounding the attack.