business
Here's What Analysts Are Saying About The Biggest U.S. Trade Deficit in Six Years
Parsing the drive behind a wider U.S. trade deficit
By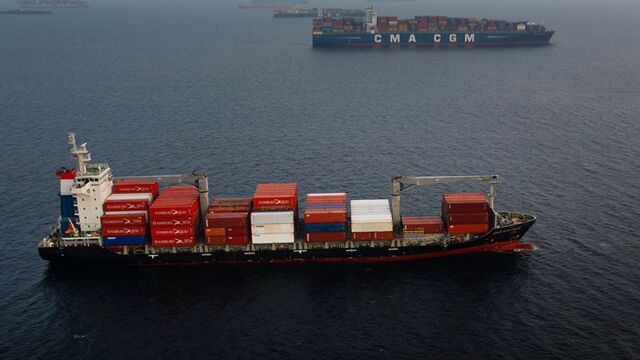 The big question about today's awful trade report is how much of it was just a blip and how much of it was a sign that the strong dollar is weakening U.S. competitiveness in global markets. 

The trade deficit ballooned to $51.4 billion in March, the Bureau of Economic Analysis said on Tuesday. That's more than the agency assumed when it made its initial estimate of first-quarter economic growth, meaning that when the next estimate comes out, the government will probably report that the U.S. economy shrank in the first quarter, rather than growing at a 0.2 percent annual rate.
Clearly, a big reason for the biggest trade deficit in six years is that West Coast ports got back to business, and imports arriving through them then surged. More imports mean a bigger deficit. That's nothing to worry about for the long term, because once the backlog is cleared, imports will drop back to normal and the trade deficit will shrink. (The trade deficit is the difference between imports and exports.)
More worrisome is the possibility that the strong dollar is making American exports too expensive abroad, while encouraging imports by making foreign goods cheaper in the U.S. That's more than a blip because the longer the dollar stays strong, the more people will switch away from costly American-made goods and services.

JPMorgan Chase economist Daniel Silver wrote to clients that "we do not know" if the weakness of exports is port-related, "or if the recent weakness in the data is mainly due to the stronger dollar."

Other economists put the blame mainly on the port disruptions. Deutsche Bank Securities Chief U.S. Economist Joseph LaVorgna wrote to clients that averaging out February (when imports were depressed by port troubles) and March (when they rebounded), the trade deficit ran "only modestly" above the past year's trend.
"Yes, the stronger dollar is playing a role here, but currency shifts simply don't feed through into real trade flows that fast and that dramatically," Paul Ashworth, chief U.S. economist at Capital Economics, wrote in a client note. What he meant is that it takes time for people to change their buying patterns after a shift in exchange rates. 
"That said," Barclays Capital economist Jesse Hurwitz wrote, "we do expect the net trade balance to drag on overall growth over the next several quarters." That's partly because Americans are consuming more and partly because of the stronger dollar, he said.
The trade deficit in manufacturing rose to a record of $72 billion.

"This is just the latest reminder that claims of a renaissance in U.S. manufacturing just don't past the laugh test," Alan Tonelson, creator of the RealityChek blog, said in an interview.
Before it's here, it's on the Bloomberg Terminal.
LEARN MORE