politics
Here's the Commercial the Club for Growth Will Run Against Mike Huckabee
Welcome back to the Republican civil war, Mike Huckabee.
By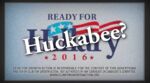 Few rivalries in politics have lasted as long, or run as deep, as the one pitting Mike Huckabee against the Club for Growth. For 15 years, the anti-tax, anti-spending group has opposed Huckabee's candidates and Huckabee himself. The former Arkansas governor has called it the "Club for Greed," has accused it of weakening the party with an economic message that alienates less-rich Americans, has dived into races seemingly just to oppose its favorites.
As reported this morning by the New York Times's Maggie Haberman, Club for Growth Action will welcome Huckabee into the 2016 presidential race with $100,000 of spending on a 60-second ad, to warn Iowa and South Carolina voters about Huckabee's tax record.
The ad, shared with Bloomberg by the Club, is strangely Beltway-focused; every damning fact about Huckabee comes from a recognizable conservative group, and is read to Huckabee's face by a news personality. That's a fairly new approach for the Club, whose most effective 2007 anti-Huckabee ad was given over to the candidate himself, telling his then-Democratic legislature that he'd sign off on basically any tax increase.
A follow-up ad hit Huckabee in an old-timey, penny-arcade style, but its wind-up was a lot like the new ad. The viewer was meant to be surprised that this Arkansas liberal was not Bill Clinton, but Huckabee.
The Club, proud of its handiwork, even preserved the governor's hopeless criticism. "These whole 527s under McCain-Feingold are out of control," he said in 2008. "Candidates don't have any ability to step in and stop it. In fact, it's against the law for us to call them and ask them to stop it."
The campaign finance regime is a whole lot looser than it was when Huckabee said that.
Before it's here, it's on the Bloomberg Terminal.
LEARN MORE