Greece Attacks Creditors as ECB Considers Next Step
Marcus Bensasson and Eleni Chrepa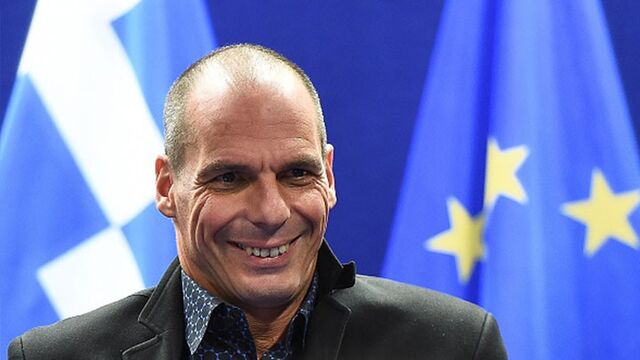 Greece blamed its creditors for the failure to end the impasse over its fiscal crisis as government bonds slumped and the European Central Bank weighs how much more liquidity to offer its financial system.
No deal will be possible until the European Commission and the International Monetary Fund reduce the number of red lines they're demanding, a government official said on Tuesday.
The comments clouded the outlook for bailout talks, which some officials had said were making progress, and accelerated a selloff in the country's stocks and bonds. Yields on two-year notes rose 149 basis points to 20.98 percent, sparking a selloff across European debt markets. The benchmark stock index fell 3.9 percent, the most in six weeks.
Attention now turns to the ECB's Governing Council, which meets in Frankfurt on Wednesday and will discuss emergency funding for Greek lenders. While the ECB has increased the amount of liquidity on offer to Greek banks, concerns are rising about the risks attached to the strategy.
Greek Deputy Prime Minister Yannis Dragasakis met with ECB President Mario Draghi on Tuesday, with the ECB only saying they they discussed the current state of talks and the country's economy.
Dragasakis told Draghi that achieving an agreement is a realistic goal, provided all the institutions act constructively, according to an e-mailed statement from Greek Prime Minister Alexis Tsipras's office.
'Good Compromise'
Greece's latest comments came amid signs that talks were advancing before another finance ministers' meeting on May 11. European Economic Affairs Commissioner Pierre Moscovici tweeted that progress was being made and French Finance Minister Michel Sapin said there's room for a "good compromise."
Greece's new line of argument focuses on what it says are divisions among the international creditors. The IMF won't compromise on labor deregulation and pension reforms, while the European Commission is insisting on fiscal targets being met, said the government official, who spoke on condition of anonymity because the talks are confidential. The commission is also refusing to consider a debt writedown, he said.
IMF spokeswoman Angela Gaviria said in an e-mail that she had no immediate comment. A European Commission spokesman wasn't immediately available.
Greece is sending mixed signals about just how much money it has left. While officials say they can make payments to the IMF this week and next, one policy maker signaled last month that the country may struggle to keep its finances afloat beyond the end of May.
Greek Future
The ECB holds one of the keys to Greece's future. With concerns about a Greek default rising, central bank officials have developed proposals such as increasing the discount imposed on collateral offered by Greek banks.
That has the benefit of limiting the dangers to the euro-area central-banking system. At the same time, it would also risk worsening Greece's liquidity squeeze and could spark capital controls. It is therefore a decision that the ECB is unlikely to make without the support of European Union governments, said Holger Schmieding, chief economist at Berenberg Bank in London.
"The ECB will not take the big political decision," according to Schmieding. It will keep banks afloat with Emergency Liquidity Assistance while negotiators keep trying for a deal "but tighter collateral requirements could send a strong message to the Greek government that time is running out."
Before it's here, it's on the Bloomberg Terminal.
LEARN MORE