For Hillary Clinton's Campaign Manager, It All Began in Vegas
In preparing for the 2008 Nevada caucuses, Robby Mook made his political bones.
By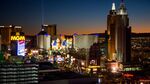 A few days before that year's Nevada caucus, among the most rancorous of primary battles of 2008, the head of Hillary Clinton's state team went to the emergency room.
Robby Mook wasn't ill, but one of his field organizers—a junior staffer he'd known for a few months—was. Though the campaign was at one of its busiest moments, Mook was determined to show the woman that he was there to support her.
When he got to the hospital, a recognizable face was already in the waiting room: his counterpart on Barack Obama's campaign, David Cohen, who'd been friends with the woman for years.
"It was days before the caucus and there we were, sitting together waiting and joking around about both being there," said Cohen, who had met Mook only once before that night. "I was struck—it was the height of the campaign and he could've just stayed in the office or sent someone else. But he was like, 'Nope, I know where I've got to be.'"
That was just one hint of the kind of campaign leader Mook, who was 27 during most of his 11 months as Clinton's Nevada state director, had already become. After helping Clinton to a split decision in Nevada—she won the popular vote while Obama won the delegate count—he moved on to lead her winning state operations in Ohio and Indiana.
He's since refined his skills, leading Jeanne Shaheen's 2008 successful Senate campaign in New Hampshire, Terry McAuliffe's gubernatorial campaign in Virginia, and the Democratic Congressional Campaign Committee through the 2012 cycle. 
As Clinton makes her first trip of the campaign cycle to Nevada on Tuesday for a roundtable on immigration reform and a fundraiser hosted by Las Vegas Sun president and publisher Brian Greenspun, the memory of Mook's role in her 2008 campaign remains fresh. And the way that Mook ran Nevada operation—his first presidential-level leadership role—offers a clue toward the way he'll approach the next 18 months: focused on teamwork, discipline and keeping costs low. He's described by people who've worked for and against him as someone who approaches the platonic ideal of the campaign manager: a skilled strategist, talented field organizer and able manager.

But one person who won't be the source of a description of him is Mook himself. As a general rule, he doesn't talk to reporters, let alone agree to interviews for profiles of himself.
Eight years ago, as a young out-of-stater with two cycles of experience under his belt, Mook could have rubbed Nevada's Democrats the wrong way. He didn't. 
"He wasn't a snotty-nosed kid that didn't know what he was doing," said Rory Reid, the well-connected lawyer and son of Senate Minority Leader Harry Reid who was the Clinton campaign's state chairman in 2008.
His work was "very methodical and effective" and his demeanor was "gentlemanly," Reid said. "Most political operatives are not frequently described as likable. They tend to be bombastic and foul mouthed and objectionable in many ways, and he's not that. He's very unassuming and focused."
The 2008 race was the first time Nevada held caucuses on such a large scale, and organizing for them was a complex and challenging undertaking. Mook was the "mastermind," said Alisa Nave-Worth, the 2008 campaign's Southern Nevada political director. He directed the communications strategy, created a how-to-caucus website that got out ahead of other campaigns and helped build a vast network of endorsements.
Mook was also aggressive in pushing for what he needed from headquarters in Virginia. "When he felt we needed something from the folks at national, he got on the phone and was very clear," said Pam duPré, the northern Nevada political director. "He had reasons lined up—why we needed a surrogate, more money, more people."
The operation was thrifty, and that started from the top. Mook and his field director Marlon Marshall would stay in duPré's house when visiting the Reno area, and out-of-state surrogates were put up in supporters' homes or inexpensive hotels. Now that he's running the whole campaign, the rules are even tighter: no business cards for staff, and they are urged to take the bus when traveling between New York and Washington.
Mook is even-keeled, resisting the impulse to get too excited when something goes well or to get discouraged by a setback.
Throughout 2007, the Clinton campaign pushed hard for the endorsement of the Culinary Union's Local 226, which represents workers on the Las Vegas Strip. When the union chose to back Obama, the near-universal response among Clinton supporters was "oh my gosh, we're in trouble," Reid said. Bill Clinton lashed out at the "establishment organization" for siding with Obama while the rank-and-file "insurgents" backed his wife.
Mook stayed calm. "He just looked at me and said, 'let's win those caucuses,'" Reid recalled. Field workers buckled down, Bill and Chelsea started reaching out to voters, and Clinton won 7 of the 9 caucus sites along the Strip.
"I've never once seen him angry," said Emmy Ruiz, the 2016 Nevada state director, who worked with Mook throughout the 2008 Nevada campaign as a field organizer. 
Mook's unruffled approach also translated into the way he managed his staff, choosing to intervene and then move on when he saw conflict.
"Other campaign people can be like, 'if it means I'm spending 60 fewer seconds on voter contact, I'm ignoring the issue,'" duPre said. "Robby wasn't like that. He would simply shift his focus very briefly, take care of whatever he had to take care of, and get back on track."
Mook makes it clear to his teams that "you have to be personally invested in the people around you," Nave-Worth said. He's also a proponent of "mandatory fun"—meals, drinks and retreats—to help build those bonds.
In late 2007, aware that many staffers wouldn't be able to get home to their families for Christmas and wouldn't be able to spend the day calling voters, Mook engineered a party for 200. "All the senior staff basted turkeys," recalled Nave-Worth, whose mother hosted the group at her Las Vegas home. "We went outside in the cold and cooked some on the grill."
Ruiz, the first field organizer the Clinton campaign hired back in 2007, is now doing Mook's old job as state director. "He invested in my development, and I'm not the only one," she said, pointing to Brynne Craig, a 2008 Nevada field organizer who is now deputy political director, as another beneficiary of Mook's mentoring.
Asked for a weakness, duPré said that Mook was "always walking around talking on his phone," a Samsung smartphone with a keyboard. "He didn't sit still very often and he had to sit still sometimes to plug in his phone."
And, she added, "I hope he eats well and gets enough rest. I hope he's following his own advice."