Creeps Embrace a New Tool: Peeping Drones
State laws start taking aim at drone users who snoop on their neighbors
By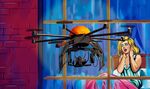 It was the blinking lights outside the 10th-story window of her San Jose, California, condo that startled Elsvette Buenaventura from her bed last year. When she drew back the curtain, a small drone hovered a few feet away. In the days that followed, it returned at least three more times.
Such stories have prompted lawmakers in a half-dozen U.S. states to outlaw the use of drones to snoop on people's homes. More states are set to follow.
"We don't know what he was looking for with his camera-drone," said Buenaventura, 32. "All we felt was a violation of our privacy."
For less than $1,000, small, remotely operated aircraft are increasingly available on the Internet and at hobby stores, and some can be equipped with equally affordable high-definition cameras. At the same time, some of America's biggest companies — names like Chevron Corp. and BNSF Railway Co. — are pushing to use drones for everything from pipeline inspection to land surveys. Their use has pushed lawmakers to weigh the rights of drone pilots against the potential for nefarious intrusions.
Camera-equipped drones have commercial uses — they can inspect crops, photograph real estate and survey land. As the government figures out how to regulate that activity, it has begun rapidly granting waivers from federal rules to drones-for-hire. Scores of companies have obtained permission to fly them.
 Rules differ for mere enthusiasts. Officially, small drones may be flown only by hobbyists who belong to community-based organizations such as the Muncie, Indiana, Academy of Model Aeronautics and follow its rules. But growing numbers of non-members are sending them aloft.
Conflict is on the rise. A New Jersey man last year shot down a drone flying over his neighborhood. Last June, a woman in Connecticut was arrested after she was accused of assaulting a young man flying a helicopter drone over a public beach.
Privacy Right
In the past two years, at least seven states have outlawed the use of drones to violate privacy, according to the National Conference of State Legislatures. California is considering a bill that would expand trespassing laws to include piloting a drone within 350 feet above private property without permission.
"Drones have a lot of potentially useful and extremely innovative uses," said Senator Hannah-Beth Jackson, the California Democrat who introduced the bill. "Invading our privacy and property without permission shouldn't be among them. When we're in our backyards, with our families, we have an expectation that we have a right to privacy."
The states' efforts come as the federal government is preparing regulations for commercial use, and companies such as Amazon.com Inc. consider using them to make deliveries, reshape farmland management and make industrial inspections.
The National Telecommunications and Information Administration has convened a group to devise suggested privacy guidelines.
Profound Misconception
Other legal concerns have arisen. More than a dozen states regulate when and whether a warrant is required before police use a drone to gather evidence, according to the American Civil Liberties Union. This year, 44 states are considering another 147 drone-related bills.
Drone enthusiasts say the regulations are misguided and that their actions are misinterpreted by a nervous public unfamiliar with the technology and its promise.
States already protect citizens against Peeping Toms regardless of the technology involved, said Brendan Schulman, an attorney who specializes in drones at Kramer Levin Naftalis and Frankel in New York.
"Many of these state law proposals are an overreaction, because existing state privacy laws already cover the types of misconduct that people are most concerned about," he said. "It shouldn't matter if you use a tripod or a zoom lens or a hidden camera placed in a tree. If you're invading someone's privacy, it's the misconduct that should be illegal, and not the technology."
Police Use
Schulman added that because of drones' use by the military and police, there is a misconception about how people use drones and what the devices can do.
"As soon as you introduce a drone, there is an irrational reaction where people think that there is an invasion of privacy happening," he said.
In Seattle last year, a woman called police to say a drone was spying into her 26th-floor apartment. In fact, a building developer had hired an aerial photography company to make images property nearby and wasn't peeping into homes.
In another case, a man from Ulster, New York, was arrested in July and charged with a felony for flying a small, camera-equipped drone outside the windows of examination rooms at a medical office.
The man, David Beesmer, said in an interview that he had taken his mother to the office for an appointment and while he waited was flying his drone to capture images of the recently constructed building in the town, which is about 100 miles (160 kilometers) north of Manhattan.
Beesmer, a drone hobbyist and videographer, said he wanted to give the images to the property owner so they could be used in marketing materials. He insists he wasn't peeping on people and that his camera isn't capable of shooting through tinted glass windows. He is fighting the charges, which have been reduced to a misdemeanor.
"My mistake was not asking prior to shooting, and had I gone in and asked first, this would never have happened," he said. "Of course simply because you now have a moving flying camera, it will make it more challenging to protect privacy from those who want to break your privacy."
For more on drones, read this next: