Chris Christie Back to Business After Allies Charged in Lane Closings
Terrence Dopp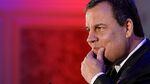 It's turn-around-the-ship time for Chris Christie, the New Jersey governor who's trying to overcome a traffic scandal and sagging approval ratings and salvage a potential run for president.
The second-term Republican is in Mississippi and Louisiana today for meet-and-greets and fundraisers, and has scheduled a two-day swing through early-voting New Hampshire later in the week. On May 14, he'll have his 137th town-hall meeting in New Jersey to talk about his proposed changes to the state budget.
Christie, 52, is trying to prove he still has a fighting chance in the 2016 race. Federal prosecutors charged three allies last week in a plot to exact political revenge against a Democratic mayor by closing George Washington Bridge access lanes in his town in 2013. The indictments stopped short of saying Christie knew of the scheme.
"It looks like he's moving ahead," said John Catsimatidis, a former Republican candidate for New York mayor who has donated to past Christie campaigns and hasn't yet given to his political action committees. "I think he should press ahead and do whatever he's going to do on his own, and let the U.S. attorney do whatever he will."
Record Low
Though Christie says he had no knowledge of the traffic jam plot, most New Jersey adults don't believe him, according to a Monmouth University poll released on May 4. His approval rating is at an all-time low of 35 percent in that survey. In a new NBC News/Wall Street Journal national poll, he was the first choice for president of just 5 percent of primary voters.
"If he won New Hampshire, he'd overcome this negative story," said Neil Levesque, executive director of the New Hampshire Institute of Politics at St. Anselm's College in Manchester. "It's a small enough state that he can come here, work hard and do that."
On Thursday in the Granite State, Christie is scheduled to hold a roundtable at a substance abuse center in Manchester and attend a fundraiser in Keene. On Friday, he'll greet breakfast patrons at a diner in Amherst and hold a town hall in Dover.
"The governor is continuing to have a discussion with the people of New Hampshire about the important issues facing this country," said Sam Smith, a spokeswoman for Christie's Leadership Matters for America PAC.
During a speech last month in New Hampshire, Christie laid out plans to means test Social Security and raise the retirement age. Speaking to a technology group last week in Virginia, Christie said he would "have more to say" on his economic policy in coming days. His itinerary for this week doesn't include any planned speeches.
"If he's able to get through this and he's able to make it to debate season, potentially his chances improve," said Krista Jenkins, director of the PublicMind poll at Fairleigh Dickinson University in Madison, New Jersey. "He almost needs to stay in at this point to maintain his claims that it was a group of rogue advisers. The appearance of guilt would be that much more magnified if he got out of the race."