Buffett and Ackman Hate U.S. Bonds and the Losses Are Piling Up
Lisa Abramowicz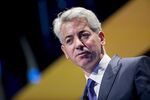 It's taken just two weeks for U.S. government-bond investors to lose $195 billion.
Nothing materially changed in the outlook for global growth, and another Federal Reserve meeting came and went without anything particularly noteworthy happening.
So, why all the losses?
It may just be the growing discontent with how low yields have gotten, and the sense that it can't last too much longer with an economy that's showing signs of life as oil rebounds.
Billionaire Warren Buffett said this week that "bonds are very overvalued," and he'd short-sell 30-year debt if he could. Bill Ackman has piled on, too.
"I don't like fixed income as a category, particularly at today's interest rates," the Pershing Square Capital Management founder said in a Bloomberg Television interview this week.
The selloff began about three weeks ago.
U.S. government bonds have lost 1.6 percent, with the market value of the Bank of America Merrill Lynch U.S. Treasury index dropping by $195 billion since April 17. Yields on 10-year Treasuries rose 0.04 percentage point to 2.19 percent as of 12:21 p.m. in New York.
"We probably have seen the bottom on yields, barring a catastrophe that I don't foresee," Richard Clarida, a global strategist at Pacific Investment Management Co., said in an April 30 interview on Bloomberg Television.
Market Selloff
As central banks globally engage in quantitative easing programs to stimulate growth, "bonds start to sell off because you're trying to reignite optimism for the economy, reignite inflation expectations," he said.
While some of that may be happening -- signs of inflation helped trigger the biggest rout in euro-area government debt last week since at least 1993 -- not everyone is so sure.
Peter Schaffrik, a strategist at RBC Capital Markets, called the bond-market rout "the wrong kind of selloff," stemming from European markets and not U.S. growth.
"We have to see whether this pattern can continue," he wrote in a note Tuesday. "In a way, we think not long as it will become self-defeating in the sense that it will stifle the recovery."
Other analysts pointed to crowded trades unraveling rather than a sudden shift in the economic outlook.
Bond Blip
"I don't sense that any of these moves have been on fundamentals, all on flows," Andrew Brenner, the head of international fixed income for National Alliance Capital Markets, wrote in a note Tuesday.
So, maybe it's just a blip. Or maybe this is the start of a slow release of all the air that's been pumped into debt markets worldwide by record central-bank stimulus.
"Credit-based oxygen is running out," bond-market veteran Bill Gross, who currently manages money at Janus Capital Group Inc., said in a commentary this week,
"I merely have a sense of an ending, a secular bull market ending with a whimper, not a bang."
Of course, Gross called an end to the bond rally in February and April of 2013, too. This time, though, he has Buffett and Ackman in his corner.
Before it's here, it's on the Bloomberg Terminal.
LEARN MORE