Photographer: Zack DeZon/Bloomberg Business
Restaurant Reviews
The Elegant Way to Share a Pig's Head
Midtown fine-dining joint Betony shifts entirely to prix-fixe and encourages you to eat the flowers
By
So you're minding your business, sipping a hibiscus cocktail dosed with absinthe, when Eamon Rockey comes over to ask you something. Crouching by the table, grinning like some trickster from a fable, Rockey has a way of asking you a question that makes it seem as if he's telling you a secret.
This is what he wants to know: Do you remember back in third grade, when you put white carnations in red dye and they drew up the color and turned pink? Of course you do. Well that's what Rockey did with the flower in your drink, except instead of using food dye, he used an infusion of fennel and star anise. Smell the flower now, and you get a clear licorice-like whiff. Eat the soft petals, and you'll taste it, too. This flower has been drinking.

When Rockey, general manager, and Bryce Shuman, executive chef, opened Betony two years ago, it was a kind of a retro pioneer in the arena of fine dining, close to Central Park in Manhattan's midtown. The restaurant's ambitions weren't toward the lean, spare minimalism of the modern chef's counter but toward something comfy and plush—closer to the classic school that invests in the luxuries. Two years later, it's clear that bet has paid off.

Shuman's kitchen turns out beautiful, often exquisite dishes. But Betony knows not to deploy everything at once, not to overload you with information. It is elegant and restrained with its use of all that interactive performance stuff, so instead of rolling your eyes at another trick, you're delighted. Some dishes arrive with a smile and minimal explanation. You just eat and appreciate Shuman's technique and presentation.
Take the terrine en gelée, a wobbly dome of crystal-clear chicken stock holding minuscule pieces of radish and soft cubes of chicken liver mousse and thigh meat. It's glorious to behold, ugly-pretty like a jelly from a Victorian holiday feast, or a 1970s birthday party, but it's up to you to swipe away the sauce and take a peek at the handiwork that's gone into this production. No one says a word. Betony has a flair for the dramatic, but they're not a bunch of relentless showoffs.

On the other hand, the pig's head, a dish for two on the four-course dinner menu, involves a whole head in profile, deeply golden from snout to ear, its eye closed so it appears to be sleeping. The pig is from Quebec, someone is bound to explain. It was raised on milk, you will hear. Maybe this is too much information, but most of the brutish stuff has happened off camera—the face has already been sliced off the bone to make it easy for you to cut into smaller pieces yourself. The result is less messy and haphazard for the diner; before you actually feast on the skin, you can hear it neatly crunch like candy under your knife.
But it's not over. You're just minding your business, nibbling on the sweet, tender meat, dipping pieces of skin into a smoky potato puree, when Shuman arrives with a small plate. A plot twist. You have the cheeks and the ears, he explains, but here are the brains and the tongue. The brains are are soft and fatty, like hot marrow out of the bone, battered and fried. The tongue is in sheer curls, bright as cherry blossoms. It's pretty, actually.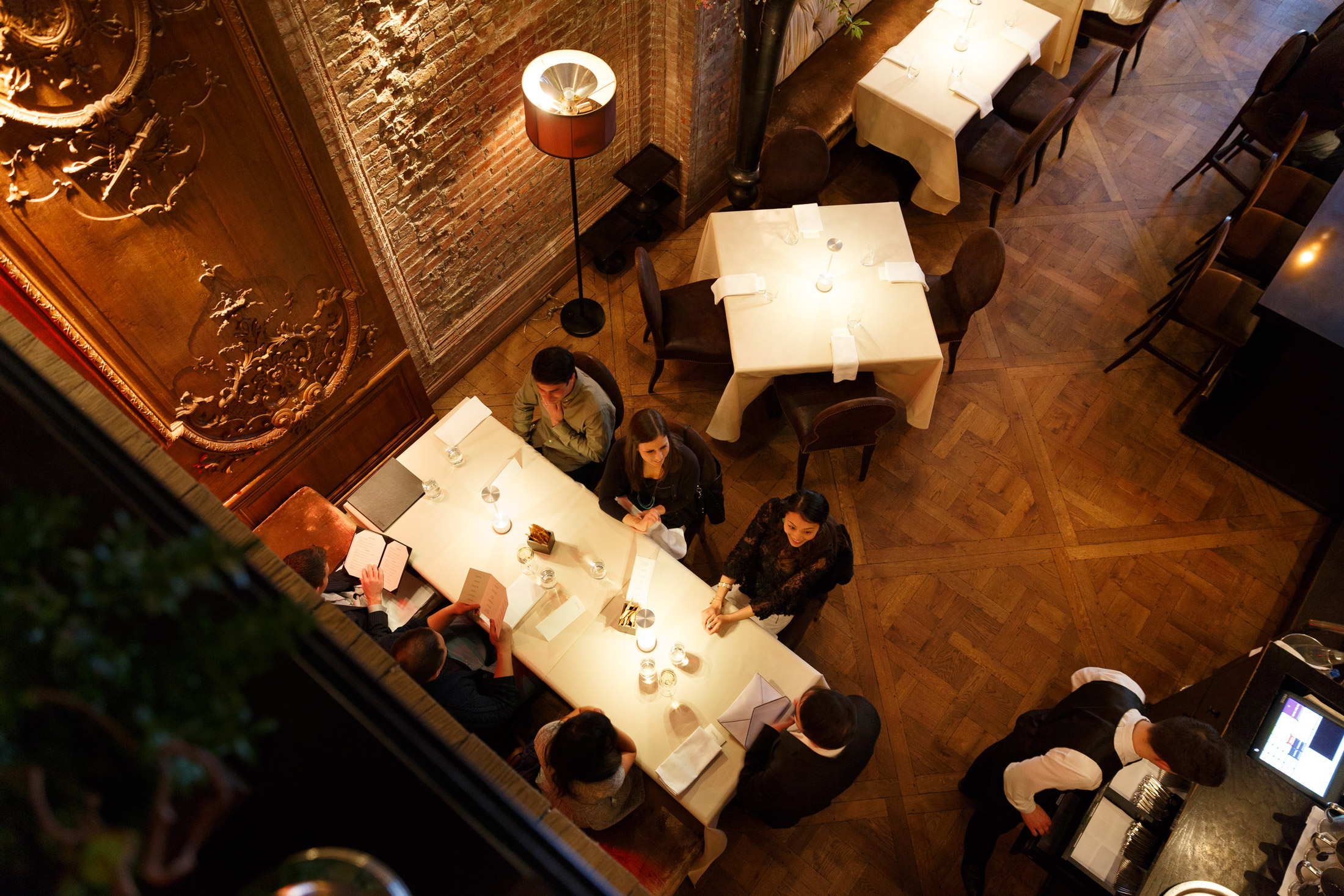 Pairings can be wonderful, and one of the most exciting on a recent evening was a generous glass of brut Champagne. This went with the green pea tahini, which you scooped up with a small, raw, extremely tender frill of kale. When the next course arrives, a study in caviar, your Champagne gets refilled in the same glass, then splashed with a little unfiltered lager, and everything turns dark and malty and smoky. You will likely enjoy any interactions with Betony's unpretentious wine director Jeff Taylor, especially if he's walking around with a magnum of Alain Pascal's bandol rosé (but even when he isn't).
The two-story dining room at Betony has always been a little odd, what with those carved stucco walls and purple velvet banquettes that feel like a boudoir built on a budget, or some dark home decorating corner of the Internet. But it's one of those rare dining rooms where you can talk, sit comfortably, and not feel rushed.

The restaurant recently dropped its à la carte menu, which means dinner is now either a four-course menu or a longer tasting menu of around 10 dishes. Both can be remarkable, though there may be moments in the longer meal when you wonder, are we just going through the motions? It was the last course, really, that got me down, the sheets of maple leaf-shaped sugar "hidden" among real leaves. These are easy to spot and not particularly delicious. Has anyone ever really enjoyed picking through rocks, looking for edibles? There is something disheartening about the charade.
The desserts that lead up to this, by pastry chef Rebecca Isbell, however, are fantastic. A recent pandan construction was particularly notable—a dense frozen milk, deeply flavored with the tropical leaf, over a lace of syrup-soaked cake and many chopped pistachios. And there's a rhubarb dish right now, with several pink crisps and tiny quenelles of marjoram ice cream that looks precious, but turns out to be as delightful and satisfying as a bowl of astronaut ice cream.

At Betony, ambergris oil is dribbled into the hot chocolate, an effort that sounds as ludicrous as it does luxurious. Because ambergris, that hard, waxy secretion from a sperm whale's digestive system, lies somewhere between poo and vomit and doesn't sound like something you'd want to sip. But the substance is a beachcomber's treasure, which can sell for more than $20,000 a pound precisely because its musk and funk will sweeten as it ages, getting better with time. At Betony, the effect in a warm, chocolate drink is strange and skunky but also powerfully delicious. Take a risk—order it.
Tejal Rao is the New York food critic for Bloomberg. Follow her on Twitter at @tejalrao and Instagram @tejalra or contact her at trao9@bloomberg.net.

Betony is at 41 W 57th St (Midtown); +1 (212) 465-2400 or betony-nyc.com
Rating: 3/4 Stars (Excellent)
Who's Next to You: A group of sixty-somethings getting competitive about their wine cellars, celebrating a birthday; young well-dressed couples from out of town, on their way to a show; suits on boozy business meetings
Soundtrack: Soft soul and jazz (from Shuman's vinyl collection), but a dining room where it's generally quiet enough to have a conversation without raising your voice.
Need to Know: Betony is prix-fixe, so choose between a four-course meal ($95) or 10-course tasting menu ($195); or a prix-fixe lunch menu. Certain courses are extra, including the pig's head, which is an additional $13 a person. If you just want a cocktail or a glass of wine, head to the bar up front.
Before it's here, it's on the Bloomberg Terminal.
LEARN MORE