politics
What Ben Carson Says About the Economy
Aides point to the Republican's experience on corporate boards and his inner circle's business experience as guideposts for his philosophy.
By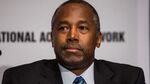 The run-up to Ben Carson's Republican presidential campaign has been far more about a grassroots groundswell than actual policy ideas. It's an area of weakness, particularly on the foreign policy front, that Carson has worked behind the scenes to remedy in recent months.
On economics, there are a similar number of unanswered questions, most notably who his top advisers will be in the months ahead. Aides do point to Carson's experience on corporate boards (which he says he will resign from now that he's running for president) and the business experience of members of his inner circle, such as Jeff Reeter, Carson's national finance chairman, a managing partner at Northwestern Mutual, as guideposts for his philosophy: the campaign's economic policy will be business-friendly.
Also on Bloomberg Politics: The Definitive Ben Carson Scouting Report, by Mark Halperin and John Heilemann
Still, Carson's political resume is admittedly lacking, but that doesn't mean he hasn't weighed in on policy debates in recent years. Carson and his aides point to the six books he has written, which include a series of policy positions from backing health savings accounts to cover most individual health care needs to ideas around tax reform and government spending.
And while pointing to Carson's books may be a clever sales pitch, it's also true that Carson has laid out a few top-line policy prescriptions on the economic front over the years—some of which he's expanded upon recently in speeches and interviews. Carson aides say detailed policy proposals will be released by the campaign in the coming weeks, but until then, here's a quick rundown.
Less fraud and regulation
Government waste and burdensome regulations are oft-cited targets in Carson's stump speech, a reflection of current Republican orthodoxy.
There's some nuance to his approach, though. For example, Carson is for the reinstatement of Glass-Steagall, the Depression-era statute repealed in part at the end of President Bill Clinton's administration. That repeal cleared the way for the merging of commercial and investment banks—i.e. allowing institutions that take customer deposits to become one with institutions that trade for profit. There's a deep and hearty debate about the role the repeal played in fueling the 2008 economic crisis, but Carson has reached his conclusion: It fostered the mega-banks that were considered by the federal government as "too big to fail" in 2008.
In an interview with Bloomberg last October, Carson said he "personally was pretty disgusted" with Wall Street's actions in the lead-up to the financial crisis. And while he said he's fine with people making money, "when you have situations where you have some guys making two or $300 million and you've got all the workers struggling, there is something wrong there."
Biblical tax policy 
Carson often speaks in favor of some form of a flat tax in place of the current U.S. tax structure and, in doing so, cites the Bible as evidence of its effectiveness. While he hasn't settled firmly on a number, he notes 10 percent is a recommendation in the Bible and often mentions something between that and 15 percent as an ideal number. His key point: It must be proportional across all income levels.
Make cuts, restructure welfare
Carson has yet to offer specific proposals on welfare and entitlements, but he's not afraid to talk about the politically touchy topics.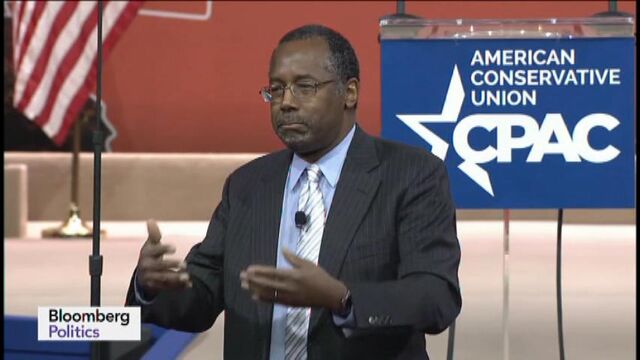 Earlier this year, in his speech to the Conservative Political Action Conference, Carson called the U.S. debt "one of the things that is going to destroy us as a nation" and said the debt and the size of government "needs to be going down." While his specifics on welfare programs haven't been fully laid out, it's safe to say he would seek major changes.
In the aforementioned interview last October, Carson pointed to Lyndon Johnson's "Great Society" programs as the point where the country took a wrong turn. During the CPAC speech, he castigated what he called a "culture of dependency" inside the U.S.  His solution, while not explicitly detailed, relies heavily on education and private charity.
Before it's here, it's on the Bloomberg Terminal.
LEARN MORE