politics
Watching Baltimore Through the Eyes of Geraldo Rivera and Fox News
What Geraldo Rivera's journey through Baltimore looked like in person.
By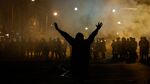 Last Tuesday night, when the national media descended on Baltimore to witness whether a curfew would quell civil unrest, two men walked the main site of protests to wildly divergent media reactions. Malik Shabazz, the former leader of the fringe New Black Panther Party, strolled between North Ave and Pennsylvania Ave with a bullhorn, advertising a march for the coming weekend. He walked aimlessly, with no protesters following him, and only a few photographers bothering to take his picture.
A few steps away stood Geraldo Rivera, prowling the crowd with a security detail and camera crew. They were besieged. As best seen in a video uploaded by Benjamin Hancock, Rivera was buttonholed by protesters who wanted Fox News to leave the city. "You weren't here for Freddie Gray" said Baltimore resident Kwame Rose, as Rivera tried to escape. "You're here for black riots." (Helplessly, Rose saw the cameras and added "Hey, hey, this is not for YouTube." The clip now has more than 1 million views.)
A few minutes later, I saw Rivera double back and interview... Malik Shabazz. As Erica Green  and Michael Dresser report in the Baltimore Sun, Shabazz has tried, with wan results, to become a player in the "Baltimore uprising." The would-be leader of a clownish Black Panther successor group was basically irrelevant, while Black Panther-inspired gangs like the Crips were playing a pivotal role on the streets. As the real story played out, Shabazz offered a surreal faux narrative, in which a "leader" who played the heel on Fox News was speaking for a city he did not live in.
This was visible on Tuesday night, and recorded just a few hours earlier. Around 3 p.m., in the downtown park where most TV cameras had been set up for live shots, Al Sharpton was rumored to be en route for a press conference. He was late. Shabazz and some allies took the opportunity to hold their own press conference, in front of a confused scrum that mostly ignored his bravado and went to write other stories. One exception: Geraldo Rivera.
"Malik, we go way back," Rivera asked Shabazz as cameras rolled. "When these children or whosever are looting stores and burning innocent peoples' property, what are they if not thugs?"
"They are my children," said Shabazz. "Every one of them that threw a brick, every one that set a fire, we still have to look at them with love and care."
On Saturday, when Shabazz finally succeeded in getting people to show up at a "victory rally," his triumph was short-circuited by protesters begging him to end a (typically) rambling speech. He still fared better than Rivera, whose latest attempt to embed in the riots had been shouted down with cries of "go home."
The viewer who got all of his Baltimore coverage through Fox News personalities likely saw a lot of Rivera and Shabazz. He might never have realized he was watching a sideshow.
Before it's here, it's on the Bloomberg Terminal.
LEARN MORE